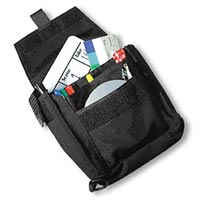 Camera Assist SR Pouch - ACG

Pouch Designed For Camera Assistants.

Designed specifically with the camera assistant in mind, allowing for easy storage of eyecups, insert slate, dry erase markers, tape measure, depth of field calculator, etc.

Features: 5 pockets, 9 various sized elastic loops and a D-ring.

Dimensions: 8.5" L x 7.5" W x 2" D.

Customers from the United States can purchase ACG products from our American distributor:
Barbizon Electric

Price $48.75

Prices in RED are Canadian Dollars.
Prices in BLUE are US Dollars.
Prices subject to change without notice.
Please Note: Not all items listed in the catalogue are regularly stocked.
Please call or email to check current inventory levels.
For volume orders, please call for a quote. Tel: 416-588-6712 Toll Free: 1-888-516-3333
Email: norm.hussey@sourceshop.com
We are not limited to the products on this site. Please call or email us and we'll do our best to locate your product.