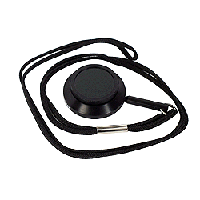 Viewing Filters - Tiffen

Balancing lighting by eye is a matter of experience. Decisions can be aided through the use of contrast viewing filters. These are designed to handicap the eye, with its much greater range of apparent densities, to resemble the range of the various types of film. Use contrast viewers to judge relative highlight and shadow densities. There are viewers for black-and-white film, as well as various viewer densities for color film. A darker viewer is used for slower film speeds, where you would tend to use brighter lighting. Faster film, which can be used in dimmer settings would require a lighter viewer.

The Tiffen #1 Contrast Glass is used for determining the black & white contrast. This Panchromatic Viewing Filter also shows the effective tonal separation within the scene. Designed to be used with black & white film stock only.

The Tiffen #2 Color Viewing Filter is used for aiding the determination of contrast when using regular speed film (50-100 ISO)

The Tiffen #3 Color Viewing Filter is used for determining the contrast range of scenes when using high speed color film.

The Tiffen #4 Green Viewer is used for process photography.

The Tiffen #5 Blue Screen Viewing Glass has a Blue 25 Lens and enables the gaffer or DP to determine if a blue screen is evenly lit.

Price $SPECIAL ORDER - Call or Email for Quote

Prices in RED are Canadian Dollars.
Prices in BLUE are US Dollars.
Prices subject to change without notice.
Please Note: Not all items listed in the catalogue are regularly stocked.
Please call or email to check current inventory levels.
For volume orders, please call for a quote. Tel: 416-588-6712 Toll Free: 1-888-516-3333
Email: norm.hussey@sourceshop.com
We are not limited to the products on this site. Please call or email us and we'll do our best to locate your product.