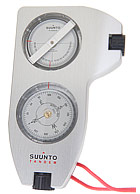 Clinometer (Height Meter) / Compass - Suunto

Suunto Tandem Clinometer & Compass.

The Suunto Tandem is a liquid-filled, precision, optical reading clinometer and compass in one compact aluminum housing. This instrument is an excellent tool for surveyors, engineers, cartographers, geologists, miners, architects and for anyone who needs to be able to measure directional indications, heights, verticle angles and slopes - with speed and accuracy.

Features:

Sturdy Pocket-Size Design.
Easy-Reading Through a Parallax-Free Lens.
Individually Calibrated.
High Accuracy - Precise Readings in Seconds
NO Screws to Turn.
NO Scales to Read.
NO Bubbles to Center.

Click here to view the Suunto Website.

Price $325.00

Prices in RED are Canadian Dollars.
Prices in BLUE are US Dollars.
Prices have not been updated and are not applicable.
We ar buiding a new site so please use this as an outdated guide only
Please call or email to check current product prices and stock.
Email: askus@sourceshop.com
Please email us with your equipment and supply needs and we will send you a quote