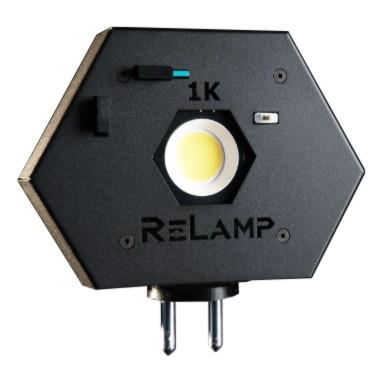 1K LED Replacement Lamp

Convert your old 1K Fresnel into a heat-free, low-power LED fixture in Daylight or Tungsten!

Instantly upgrade an existing Arri, Mole, or Desisti 1 kilowatt halogen Fresnel fixture to a high-performance daylight (or tungsten) colour temperature LED instrument in seconds. This LED Lamp is a direct replacement of the 1000W EGT Halogen Lamp.


Features
No Down-Time: Relamp your studio from Halogen to LED instantly
Ultra-High Quality: Matches Tungsten 98CRI or Daylight 95CRI without correction
Brighter: 150W LED brighter* than 1000W Halogen fixture
Full-range dimming on your existing AC Dimmers – without colour shift!
Flicker-Free: even when dimmed down.
Safe: no burns, no fire hazard, does not explode like Halogen
No heat on subject or talent
Environmentally Conscious: Easiest way to make your business sustainable.
Reliable: Fully self-protected for a very long life, ongoing warranty available.
ROI: A typical TV studio saves thousands beyond the initial cost within the first year!
1/4 the cost of comparable 1k LED Fresnels.
Optional Fresnel Lens Upgrade:
Aspheric Diffractive Plano-Convex Lens Design
Much brighter than the old glass lens, and projects a more uniform light field.
Typical Focusing Range: 15º – 70º


Technical Specifications
Directly Replaces EGT 1000W Tungsten Halogen Lamp
Mounting Base G22 – Medium Bi-Post Base
Power: 150W / 1.2A, Accepts 95-150V (240V version coming in September)
Dimming Full range dimming on your existing AC dimmers.
Colour Quality Daylight Version: 95 CRI / 96 CQS / 96 TLCI
Tungsten Version: 98 CRI / 97 CQS / 98 TLCI
Weight 1lb
Fuse 3A
Flicker Free Always
Dimensions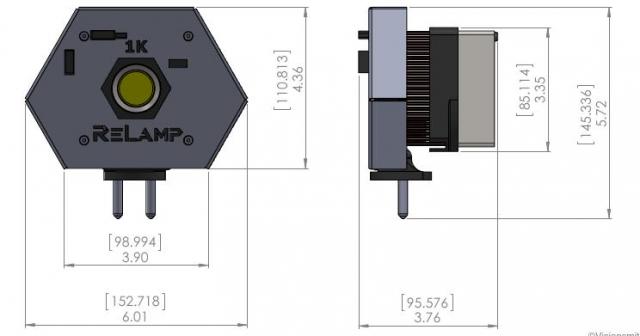 Price $975.00
Prices in RED are Canadian Dollars.
Prices in BLUE are US Dollars.
Prices subject to change without notice.
Please Note: Not all items listed in the catalogue are regularly stocked.
Please call or email to check current inventory levels.
For volume orders, please call for a quote. Tel: 416-588-6712 Toll Free: 1-888-516-3333
Email: norm.hussey@sourceshop.com
We are not limited to the products on this site. Please call or email us and we'll do our best to locate your product.