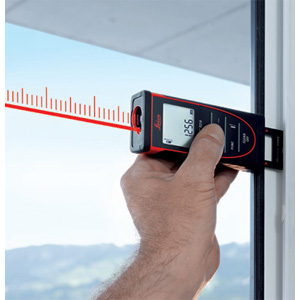 Disto E7300 - Laser Distance Meter
The compact and versatile Leica DISTO E7300 has multiple functions and is easy to use. Addition, subtraction, area, and volume calculations are achieved with the touch of a button while the last 10 results are stored in memory.
Features
Power Range Technology
IP54 dust and water splash protection
Illuminated 3-line display
Automatic multifunction end-piece
Product Description
ISO Standard 16331-1 - The standard for laser distance meters
The range and accuracy of laser distance meters depend on light conditions and reflectivity of the measuring target. For Leica Geosystems it is important that the instruments not only perform under perfect laboratory conditions, but above all under the kind of everyday working conditions encountered on construction sites. This is why, working together with external experts, the company have developed a standard by which laser distance meters can be tested and compared with each other.
Precision at the touch of a button
For everything you need to be accurate - the Leica DISTO E7300 measures with an accuracy of 1mm or better than 1/16".
Small and handy
Thanks to its ergonomic and compact design with soft grip, the Leica DISTO E7300 sits securely in your hand, is lightweight, and fits into any pocket.
Multifunctional end-piece
Whether measuring out of corners, slots, or from edges, with this end-piece you are prepared for all measuring situations. The instrument detects the end-piece automatically, which helps you avoid expensive measuring errors.
Easy to read display
The results are shown on the three line illuminated display and can be clearly seen in all ighting conditions.
Price $199.00
Prices in RED are Canadian Dollars.
Prices in BLUE are US Dollars.
Prices subject to change without notice.
Please Note: Not all items listed in the catalogue are regularly stocked.
Please call or email to check current inventory levels.
For volume orders, please call for a quote. Tel: 416-588-6712 Toll Free: 1-888-516-3333
Email: norm.hussey@sourceshop.com
We are not limited to the products on this site. Please call or email us and we'll do our best to locate your product.