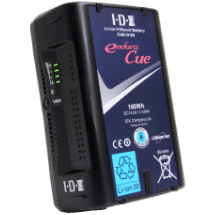 IDX Cue-D150 Batteries

The CUE-D150 answers to the power demands of digital cinematography and broadcast cameras where high current loads of 10A/120W are stamdard.

The CUE-D150 provides a robust 146Wh capacity with the ability to comfortably handle 10A/120W loads. The CUE-D150 features a V-Mount connection with 4 Power Indicator LED to display the battery capacity status. A single built-in D-Tap output capable of taking a 50W load is available for powering ancillary accessories. The new internal design of the battery pack cradles each cell securely to maximize the safety of the battery. Like all IDX batteries, the CUE-D150 is built to the highest standards of quality and reliability.


Product Features
Lithium Ion battery designed to meet Japans stringent PSE safety regulations for enhanced mechanical and electrical safety.
Manufactured in co-operation with Sanyo, the world's premier supplier of Lithium Ion cells.
High capacity of 146Wh (14.8V, 9.8Ah).
High current draw capabilities up to an impressive 10A/120W.
(1) D-Tap DC output (unregulated) connector capable of taking a 50W load within the maximum draw of 120W.
4 Power Indicator LEDs are located on the side for a quick and accurate capacity readout.
Weighing only 2.20 lbs the CUE-D150 is the world's lightest 146Wh Lithium Ion battery.
Battery circuit protection ensures the CUE-D150 is fully protected against common causes of misuse, guarding against over-charge, over-discharge, and over-current.
The highest grade Lithium Ion cells are used to ensure the CUE-D150 is one of the most reliable batteries on the market.
The CUE-D150 is fully compatible with all ENDURA V-Mount chargers and accessories.
Environmentally friendly and recyclable.
Technical Specs
Battery Capacity:
14.8V, 9.8Ah, 146Wh*
Max. Output Voltage:
16.8V DC
Nominal Voltage:
14.8V DC
Maximum Discharge Current:
10A / 120W
End Voltage:
12V
Battery Protection:
Over Charge, Over Discharge, Over Current
Ambient Temperature:
To charge: 32°F to 104°F / 0° to 40°C
To discharge: -4°F to 113°F / -20°C to 45°C
To store: -32°F to 104°F / -35° C to 40°C
Dimensions:
3.82(W) x 5.75 (H) x 2.30 (D) inches
97 (W) x 146(H) x 58(D) mm
Weight:
2.20 lbs / 997g approx.


* IDX Measures capacity of lithium ion batteries as a minimum capacity

Price $

Prices in RED are Canadian Dollars.
Prices in BLUE are US Dollars.
Prices subject to change without notice.
Please Note: Not all items listed in the catalogue are regularly stocked.
Please call or email to check current inventory levels.
For volume orders, please call for a quote. Tel: 416-588-6712 Toll Free: 1-888-516-3333
Email: norm.hussey@sourceshop.com
We are not limited to the products on this site. Please call or email us and we'll do our best to locate your product.