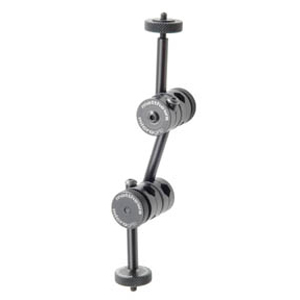 Matthews MICRO Mount Basic Kit

A further development by Matthews from the MICROgrip series of products is the highly maneuverable and quite versatile on-camera light/monitor mount.

MICROmounts is a light/monitor mount utilizing two of the micro-gripheads and three lengths of 3/8" rod to create a highly flexible mount. This will allow the photographer to get the on-camera light up from the camera body, thus enabling the light to be positioned to either side and creating the more desirable "dimensional" lighting effect rather than the "flat" lighting effect. While the basic MICROmounts light/monitor mount is supplied with three 4" rods, the creative photographer can add longer rods to create dramatic and creative lighting effects with the on-camera lighting fixture.

The MICROmounts light/monitor mount will also serve as an on-camera monitor mount. Its flexibility will allow for the monitor placement to be almost anywhere! Add just a few more MICROgrip components and the MICROmount can support an on-camera light and monitor or even two monitors from the same support system.

Price $135.00

Prices in RED are Canadian Dollars.
Prices in BLUE are US Dollars.
Prices subject to change without notice.
Please Note: Not all items listed in the catalogue are regularly stocked.
Please call or email to check current inventory levels.
For volume orders, please call for a quote. Tel: 416-588-6712 Toll Free: 1-888-516-3333
Email: norm.hussey@sourceshop.com
We are not limited to the products on this site. Please call or email us and we'll do our best to locate your product.