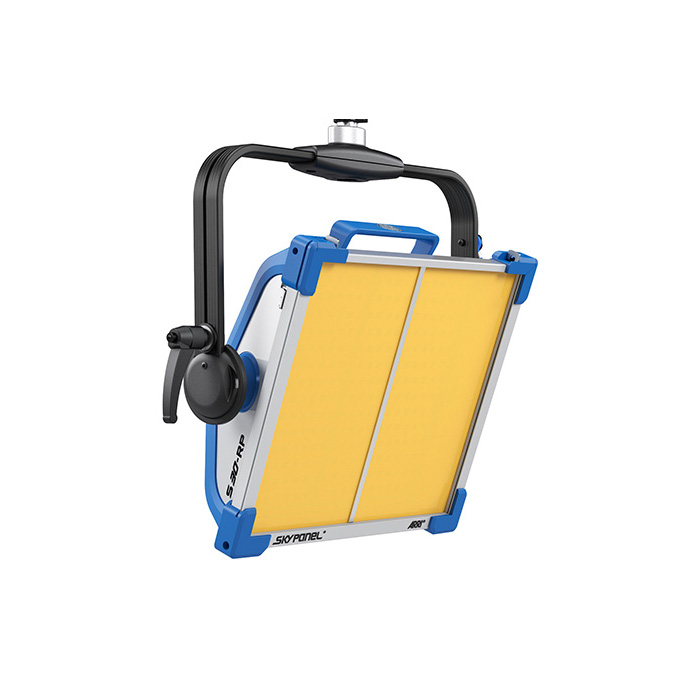 ARRI SkyPanel S30-RP

The S30 is a smaller, more portable version; half the length of the S60, it is perfect for on-the-go mobile applications.

SkyPanel makes no sacrifice when it comes to light output. SkyPanel puts out a tremendous amount of light, in a soft and uniform beam field. Brighter than a 1 kW tungsten soft light or a 3 kW tungsten space light, the SkyPanel S30 has more than enough light for most applications. At the same time, the lamphead is able to perform beautifully at lower light levels. This range of illumination and color gives users an unprecedented amount of control.


Features
Interchangeable Remote Phosphor Panels (2700, 3200, 4300, 5600, 6500, 10,000 K & Chroma Green)
Ultra High Colour Rendering
Low Power Consumption (200 W Nominal)
Tremendous Output - Brighter than 1kW Tungsten Soft Light
Fully Dimmable from 0 - 100%
Lightweight and Compact
Beautiful Soft Beam of Light
Wide Range of Accessories Available
Thin Profile
Onboard Battery Connection (23 - 36V DC)
Onboard Simple Control Panel
Onboard DMX In and Out
RDW Implementation
USB-A Connection for Firmware Updates
EtherCon port for network connectivity
Available in Blue/Silver and Black
Fan Mode Selection
External Lightweight PSU
powerCON TRUE1 Power Connector
Technical Specifications
Lamphead
Optical System
Remote Phosphor Panel
Light Aperture
355 x 300 mm
(14 x 11.8 inches)
Beam Angle
115º (Half Peak Angle)
Weight
Manual Version: 7.4 kg (16.3 lbs)
Pole Op Version: 9.0 kg (20 lbs)
Handling
Aluminum Yoke, High Strength Tilt Lock
Pole Operation Option (Pan & Tilt)
Mounting
16 mm / 28 mm Combo Pin (Baby 5/8 inch / Junior 1-1/8 inch Combo Pin)
Tilt Angle
+/- 90º
Lamphead Voltage Input
48 V DC
Power Consumption
190 W Nominal, 200 W Maximum
Lamphead Power Connection
Male 3-Pin XLR - 15 amp (Pin 1: Negative / Pin 2: Positive)
Battery Connector
Male 4-Pin XLR - 10 Amp (Pin 1: Negative / Pin 4: Positive)
Battery DC Voltage Range
23 - 36 V DC
Battery Mode Light Output
100% of Total Output
White Light
Changeable Remote Phosphors Panels: 2700K, 3200K, 4300K, 5600K, 6500K, 10.000 & Chroma Green
Coloured Light
N/A
Colour Temperature Tolerance
4-5 SDCM
Colour Rendition
2700K: CRI >98, TLCI >98
3200K: CRI >98, TLCI >98
4300K: CRI >97, TLCI >96
5600K: CRI >97, TLCI >96
6500K: CRI >96, TLCI >94
10.000K: CRI >92, TLCI >88
Green-Magenta Adjustment
N/A
Dimming
0 - 100% Continuous
Control
On-Board Controller, 5-Pin DMX In and Through, EtherCon LAN Network Connectivity, USB-A
Remote Device Management (RDM*)
DMX Setup, Hour Counter and Standard RDM Commands
Software Interface
Ethernet: DMX Setup, Fixture Status and Firmware Upgrade Through PC, Mac USB-A: Software upgrade via flash drive
Housing Colour
Blue/Silver, Black
Ambient Temperature Operation
-20 - 45ºC (-4 - 113ºF)
Protection Class
IP 20
Estimated LED Lifetime (L70)
50,000 hours
Estimated Colour Shift Over Lifetime
+/- 5% K
Certifications
CE, FCC; GS, cNRTL, CB
Power Supply Unit
Power Supply Input Range
110-240 V AC, 50/60 Hz
Power Supply Output Range
48 V DC
Power Input Connection
powerCON TRUE1 (Bare Ends / Schuko / Edison Cables Available)
Power Output Connection
Female 3-Pin XLR - 10 Amp (Pin 1: Negative / Pin 2: Positive) powerCON TRUE1 (mains power through)
Weight
2.1 kg (4.6 lbs)
Dimension
383 x 116 x 90 mm (15 x 4.6 x 3.5 inch)
Control
Onboard On/Off Switch
Mounting
Super Clamp Attachement / SkyPanel PSU Rail Mount
Accessories
Diffusion
Description
Part Number
USD List Price
Remote Phosphor Panels S30-RP
Remote phosphor panels for the S30-RP are available in six color temperature versions with excellent color rendition. There is also a chroma green version for lighting green screens available.



Excellent Colour Rendition
Produces a homogeneous and soft beam of light

L2.0007520 Remote Phosphor Panel S30 - 2700K - CRI 98
L2.0007521 - 3200K
L2.0007522 - 4300K
L2.0007523 - 5600K
L2.0007524 - 6500K
L2.0007789 - 10,000K
L2.0007525 - Chroma Green
$610.00

$610.00

$610.00

$610.00

$610.00

$610.00

$610.00

$1,200.00
Light Control
SkyBender S30
The SkyBender produces a uniform intensity light field over the length of any surface, transforming the beam by simply sliding into the front of the fixture. This is the perfect accessory for lighting a green screen, creating color wall washes, lighting a translight or backdrop, or evenly lighting a cyclorama.



Additional Versatility
+/- 1/6 F-Stop Uniformity
Smooth & Even Distribution
Lightweight design
Slides into the primary accessory slot

L2.0010271
$690.00
4-leaf Barndoor S30
The 4-leaf barndoor for the S30 allows for control of light spill and narrowing of the beam angle. Additional small flaps protect against light leak between the lamphead and the barndoors.



Lightweight and Rugged Design
Two safety hooks to hold the barndoor in place
4-Leaf design with light leak flaps
Slides into outer accessory slot allowing for changing of diffusion panels without the removal of the barndoors

L2.0008187
$240.00
4-Chamber Eggcrate S30
This 4-chamber eggcrate is 130 mm thick (5.1 inches) and controls light by limiting the half peak angle to 60º.



4 Channels design allows for minimal light loss
130 mm (5.1 inches) thick
60º HPA
Rugged design
Extra accessory slot for stacking other SkyPanel accessories
Slides into the primary accessory slot

L2.0008048
$100.00
Honeycomb 60º S30
The 60º Honeycomb for the S30 controls the light by reducing the beam angle to approx. 60º.



Honeycomb design reduces multiple shadows
14 mm (0.6 inches) thick
~60º HPA
Slides into the primary accessory slot

L2.0008064
$230.00
Honeycomb 30º S30
The 30º Honeycomb for the S30 controls the light by reducing the beam angle to approx. 30º.



Honeycomb design reduces multiple shadows
14 mm (0.6 inches) thick
~30º HPA
Slides into the primary accessory slot

L2.0008065
$230.00
Snoot S30
This S30 snoot is 130 mm thick (5.1 inches) and controls light, not allowing spill light from the sides of the lamphead.



Straight wall snoot with one large chamber
130 mm (5.1 inches) thick
Rugged design
Extra accessory slot for stacking other SkyPanel accessories
Slides into the primary accessory slot

L2.0008019
$90.00
Extra Diffusion Slot S30
The S30 Extra Diffusion Slot slides into the primary accessory slot of the SkyPanel and allows for stacking for multiple diffusors.



Fits all SkyPanel S30 Diffusors
Top safety latch
Thin profile
Slides into the primary accessory slot or the front of the SkyPanel Snoot or Egg Crate
Extra accessory slot for stacking other SkyPanel accessories

L2.0008189
$70.00
Lightbanks
Chimera Lightbank with Frame S30
The Lightbank and Frame for the S30 by Chimera is a professional grade soft box that increases the light aperture of the SkyPanel by roughly 100%. The lightbank comes with several diffusions and folds away for storage. The frame slides directly into the SkyPanel accessory slot.



Specially made for SkyPanel S30
Professional Grade Construction
Small Video Pro front
Includes: Lightbank, frame, and three diffusions

L2.0008196
$740.00
DoPchoice SnapGrid 40º for S30
The SnapGrid for the S30 by DoP Choice attaches directly to the front of the SkyPanel and provides for directional light control. The SnapGrid easily folds away for storage.



Specially made for SkyPanel S30
HPA: ~40º
No Mounting Hardware Required

L2.0008142
$300.00
DoPchoice SnapBag for S30
The SnapBag for the S30 by DoP Choice attaches directly to the front of the SkyPanel and creates a larger aperture with beautiful soft light. The SnapBag easily folds away for storage.



Specially made for SkyPanel S30
Comes with 1/2 Grid Cloth Diffusion
No Mounting Hardware Required

L2.0008141
$410.00
DoPchoice SnapGrid 40º for SnapBag S30
The SnapGrid for the SnapBag by DoP Choice attaches to the front of the S30 SnapBag and provides directional light control. The SnapGrid easily folds away for storage.



Specially made for SkyPanel S30
Comes with 1/2 Grid Cloth Diffusion
No Mounting Hardware Required

L2.0008140
$360.00
Mounting
Center Mount Yoke
The Center Mount Yoke is a ball-in-socket yoke that allows for positioning the SkyPanel in almost any orientation including vertically. The Center Mount Yoke replaces the traditional stirrup and slides on to the rail mounting system located on the back of the SkyPanel.



Ball-in-socket design
28 mm (Junior) Spigot with long "goose neck"
+/- 90º Movement
Tool-less attached to the rail mounting system on the SkyPanel
Works with both the S30 and S60

L2.0008078
$260.00
Fixed Center Mount Yoke
The Fixed Center Mount Yoke is a fixed 28 mm spigot that allows for direct attachment from the back of the SkyPanel to mounting hardware. The Fixed Center Mount Yoke replaces the traditional stirrup and slides on to the rail mounting system located on the back of the SkyPanel. Great for low ceilings or pointing the SkyPanel straight down or straight forward (i.e. a wall of SkyPanels)



28 mm (Junior Spigot)
Tool-less attached to the rail mounting system on the SkyPanel
Works with both the S30 and S60

L2.0008080
$90.00
Double Vertical Yoke S30
The Double Vertical Yoke allows for mount two SkyPanel S30 fixtures one directly above the other.



High strength Aluminum yoke
Independent tilt of both lampheads
28 mm (Junior) Spigot
High strength tilt locks

L2.0008184
$270.00
Battery Adapters
Battery Adapter Plate for Anton/Bauer
The Battery Adapter Plate for Anton/Bauer allows for the attachment of two Gold Mount style batteries to the SkyPanel. With a short cable, the battery adapter makes the SkyPanel truly mobile. Both batteries are required to supply the correct voltage to the lamphead.



Supports two Anton Bauer Gold Mount Batteries (in series)
SkyPanel Quick Release System
On / Off switch
4-pin XLR output
Includes 0.5m and 3 m 4-Pin XLR
Battery Min. Recommendation: 14.4V, 100 Wh Capacity

L2.0008071
$371.00
V-Mount Battery Adapter Plate
The V-Mount Battery Adapter for SkyPanel allows for the attachment of two V-Mount style batteries to the SkyPanel. With a short cable, the battery adapter makes the SkyPanel truly mobile. Both batteries are required to supply the correct voltage to the lamphead.



Supports two V-Mount Batteries (in series)
SkyPanel Quick Release System
On / Off switch
4-Pin XLR output
Includes 0.5 m and 3 m 4-Pin XLR
Battery Min. Recommendation: 14.4V, 100 Wh Capacity

L2.0008070
$371.00
Cables
DC Cables (XLR) SkyPanel
The DC Cable connects the SkyPanel PSU to the SkyPanel lamphead.



3-Pin XLR Female to 3-Pin XLR Male
Special SkyPanel 10 mm Diameter Cable

L2.0007492 0.5 m (1.6')
L2.0007491 1 m (3')
L2.0007493 3 m (10')
L2.0007494 10 m (33')
L2.0007860 15 m (49')

$35.00

$40.00

$70.00

$140.00

$200.00
Mains Cables, powerCON TRUE1
The Mains Cables connect the SkyPanel PSU to a mains power outlet (110 - 250 V AC - 50 / 60 Hz).



Length: 3 m (9.8 ft)
powerCON TRUE1 Connector
Mains Connector (Schuko, Edison, Chinese)
Insulated rubber cable H07RN-F 3G1,5,EN
Rubber insulated cable 3xAWG16, UL (Edison)

L2.0007515 Edison
L2.0005974 Bare Ends

$60.00

$60.00
PSU Attachments
Rail Mount Adapter for SkyPanel PSU
The Rail Mount Adapter attaches to the SkyPanel PSU (no tools required) and allows for the mounting of the PSU to the rail mount system on the back of the SkyPanel lamphead. If an all-inone system is required, this accessory will accomplish the task.



Attaches to SkyPanel PSU or Battery Adapter Plates
Tool-less system allows for quick attachment and release from the PSU
Slides onto rail mount system on the back of SkyPanel

L2.0008082
$40.00
Super Clamp Adapter for SkyPanel PSU
The Super Clamp Adapter attaches to the back of the SkyPanel PSU (no tools required) and allows for the mounting of the PSU to a wide variety of objects including light stand stems and truss.



Attaches to SkyPanel PSU or Battery Adapter Plates
Comes with Super Clamp for mounting to a variety of objects
Tool-less system allows for quick attachment and release from the PSU

L2.0006921
$70.00
Price List
| | | |
| --- | --- | --- |
| Part Number | Description | USD List Price |
| L0.0007717 | S30-RP 3200K, Manual, Blue/Silver, 10' (3m) Mains Cable with Edison (U-Ground) | $3,125.00 |
| L0.0007721 | S30-RP 3200K, Pole Op, Blue/Silver, 10' (3m) Mains Cable with Bare Ends | $3,125.00 |
| L0.0007722 | S30-RP 3200K, Pole Op, Black, 10' (3m) Mains Cable with Bare Ends | $3,125.00 |
| L0.0007723 | S30-RP 5600K, Manual, Blue/Silver, 10' (3m) Mains Cable with Edison (U-Ground) | $3,125.00 |
| L0.0007726 | S30-RP 5600K, Pole Op, Blue/Silver, 10' (3m) Mains Cable with Bare Ends | $3,125.00 |
| L0.0007727 | S30-RP 5600K, Pole Op, Black, 10' (3m) Mains Cable with Bare Ends | $3,125.00 |
Price $Call or Email for Quote
Prices in RED are Canadian Dollars.
Prices in BLUE are US Dollars.
Prices have not been updated and are not applicable.
We ar buiding a new site so please use this as an outdated guide only
Please call or email to check current product prices and stock.
Email: askus@sourceshop.com
Please email us with your equipment and supply needs and we will send you a quote