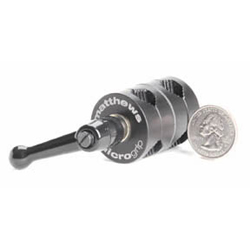 Matthews MICRO Grip Head

MICROgrip by Matthews is being introduced as the newest line of grip and mounting products developed especially for the motion picture, television and photographic production industries.

This broad range of products has been developed around the micro-griphead with only a 1.25" (32mm) diameter and tapped 3/8" rods of various lengths.

MICROgrip is great in the studio for table top and product imaging as well as miniature work. The micro-griphead allows all of the moves and features of its bigger 2-1/2" counterpart but in a smaller package. Accessories to the micro-griphead include various lengths of 3/8" rods, weighted bases for increased stability clips to hold props and objects, and micro shot bags plus a wide variety of micro scrims and flags.

Price $42.00

Prices in RED are Canadian Dollars.
Prices in BLUE are US Dollars.
Prices subject to change without notice.
Please Note: Not all items listed in the catalogue are regularly stocked.
Please call or email to check current inventory levels.
For volume orders, please call for a quote. Tel: 416-588-6712 Toll Free: 1-888-516-3333
Email: norm.hussey@sourceshop.com
We are not limited to the products on this site. Please call or email us and we'll do our best to locate your product.