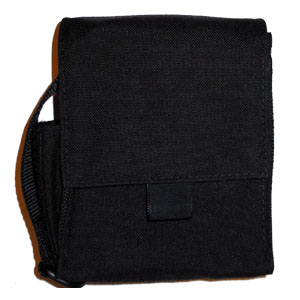 Multi Purpose Set Pouch - ACG

The Multi Purpose Set Pouch is designed to be versatile and can be used for any department.

This new pouch is ideal for anyone on set who needs to keep a few things close at hand but doesn't want something big and bulky on their belt. It has a large cover flap to protect the contents of the pouch when closed and can also be folded to stay open for easy access to the materials inside. It has a front pocket for small things, and a larger main pocket with loops to hold pens and markers. There is also a small side pouch with its own flap that is ideal for holding flashlights of various sizes. It also has a small D-ring for clipping on a carabiner.

Dimensions:
6 3/4" (17 cm) Long X 5 3/4" (14.5 cm) Wide X 2" (5 cm) Thick

9" (23 cm) Long with flap open

Customers from the United States can purchase ACG products from our American distributor:
Barbizon Electric

Price $43.50

Prices in RED are Canadian Dollars.
Prices in BLUE are US Dollars.
Prices subject to change without notice.
Please Note: Not all items listed in the catalogue are regularly stocked.
Please call or email to check current inventory levels.
For volume orders, please call for a quote. Tel: 416-588-6712 Toll Free: 1-888-516-3333
Email: norm.hussey@sourceshop.com
We are not limited to the products on this site. Please call or email us and we'll do our best to locate your product.