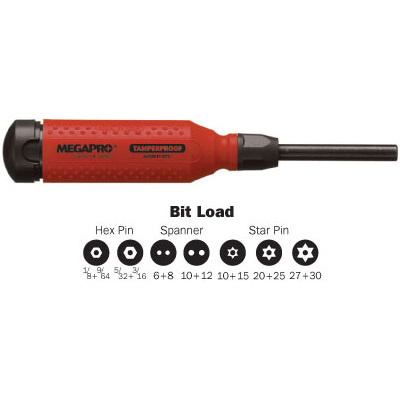 Megapro 15in1 Tamperproof Screwdriver

15 in 1 Tamperproof Screwdriver.

This 15in1 is a must have for all commercial / industrial tradesmen ie. Electricians, locksmiths, telephone technicians, maintenance personnel, etc. The Tamperproof assortment includes the most popular security bits, including Spanners, Hex Pins and Star Pins. The shaft opening serves as a 1/4" hex driver.

Price $32.50

Prices in RED are Canadian Dollars.
Prices in BLUE are US Dollars.
Prices subject to change without notice.
Please Note: Not all items listed in the catalogue are regularly stocked.
Please call or email to check current inventory levels.
For volume orders, please call for a quote. Tel: 416-588-6712 Toll Free: 1-888-516-3333
Email: norm.hussey@sourceshop.com
We are not limited to the products on this site. Please call or email us and we'll do our best to locate your product.