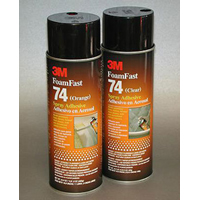 Spray Adhesive - 3M 74 Foam Fast

For bonding flexible urethane or latex foam together or to many other materials like wood, metal, and non-vinyl plastics.

Outstanding features include excellent coverage, bonds immediately, soft, non-dimpling glue lines, long bonding range. The variable spray control lets you spray adhesive precisely where you want it and provides a one to three inch wide spray pattern. Misting and overspray are reduced. 55% Volatile Organic Compounds.


| | |
| --- | --- |
| Spray Width | 1" - 4" Variable |
| Bonding Range Surfaces One/Both | N/R/ 15 min. |
| (PSI) Shear Initial/Ultimate | 40/205 |
| Relative Adhesion Peel Strength (PIW) | 20 |
| Relative Adhesion Temperature Resistance | 120°F (49°C) |
| Coverage Sq. Ft. / Container (typical) | 260 |
| Restrictions | ORM-D / UN1950 |


Click here to download the Data Sheet.

Price $22.00

Prices in RED are Canadian Dollars.
Prices in BLUE are US Dollars.
Prices subject to change without notice.
Please Note: Not all items listed in the catalogue are regularly stocked.
Please call or email to check current inventory levels.
For volume orders, please call for a quote. Tel: 416-588-6712 Toll Free: 1-888-516-3333
Email: norm.hussey@sourceshop.com
We are not limited to the products on this site. Please call or email us and we'll do our best to locate your product.