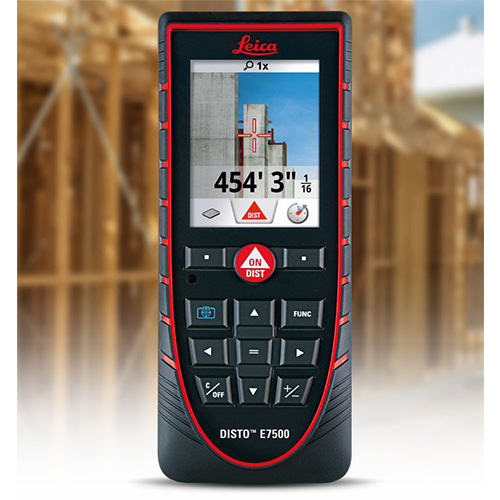 Disto E7500 - Laser Distance Meter

The Leica DISTO™ E7500 is a 7 measurement mode LDM that is accurate to 1/16th of an inch. It is rugged IP65 rated against dust, dirt and rain, and features a point finder camera, a bright LCD screen and Smart Horizontal™ mode.

It is a simple to use laser measurer built to take outdoor measurements at great distances.

The E7500 laser module can read a target at distances that exceed your ability to see the laser point. With the point finder -- a 4x zoom digital camera -- you find your target in the display, extending the useable range to the ~500ft max.

The farther you can shoot, the more potential there is for something to get in the way. Smart Horizontal™ allows you to shoot over obstacles so you can measure the level horizontal distance to your target.

At distance, a small wobble in the tool bounces the laser point in wide arcs. This is sub-optimal for acquiring reflected laser energy. For best results when measuring long distances, keep your dot steady with a tripod and our Fine Tune Adapter.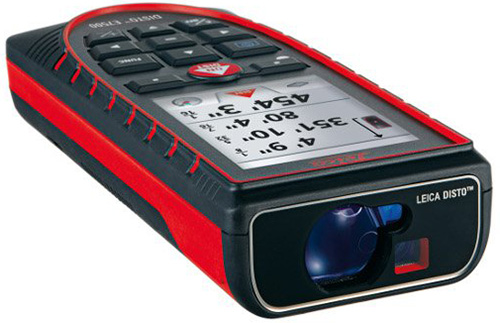 Features and Functions
Smart Horizontal Mode
| | |
| --- | --- |
| | Use Smart Horizontal to determine the level horizontal distance to a target when you have to shoot over an obstacle. The onboard 360° tilt sensor provides an angle measurement so the software can do the math to figure out how much to subtract from the angled shot to get the actual horizontal distance. |
Min / Max Function
| | |
| --- | --- |
| | In Min/Max mode, you "sweep" the laser point into a corner. The longest measurement is recorded. Very useful for accurate diagonal room or window/door measurements. |
Area / Volume
| | |
| --- | --- |
| | In area mode, the DISTO determines the area of a rectangle or square in two shots. Volume mode adds a third vertical shot to calculate volume. |
Painter Function
| | |
| --- | --- |
| | When the DISTO is in area or volume mode, you can use the add / subtract function to total up the area of several surfaces, or subtract an area, like a door for example, from a measurement. |
Stake Out Function
| | |
| --- | --- |
| | The stake out function uses the continuous measurement mode to indicate where to place stakes along a stake-out line. Ideal for any situation where you need to place objects at a consistent interval. The display shows the distance to the next stake out point and the DISTO beeps as you approach it. |
Accurate to 1/16 of an inch
That's right: A sixteenth of an inch. Take out a pair of earbuds. Look at how wide the the 1/8" jack is. Now divide that by half.


4x Zoom Pointfinder camera
| | |
| --- | --- |
| | The onboard digital camera features a 4x digital zoom "point finder" that shows you where the dot is even if you can't see it with the naked eye. Put the crosshairs on the spot you are measuring to and hit the button. It's that simple. |
Intelligent Endpiece
| | |
| --- | --- |
| | The endpiece is an integral part of the tool, connected to the circuit board. In the closed position the DISTO knows to measure from its base. Flip it open 90 degrees to align the base perfectly on an edge or corner. Flip it out all the way and you can put this baby in a corner to accurately measure diagonals. Otherwise, the width of the base would prevent you from getting all the way into the corner, rendering the measurement inaccurate. |
Memory stores 30 Displays
Store measurements and images with measurements associated with them.


Timer
Set a timer to delay a measurement the same way you would with the shutter on a digital camera.


IP65
"IP" stands for Ingress Protection. The Ingress Protection (IP) rating was developed by the European Committee for Electrotechnical Standardization (CENELEC) to create a standard of toughness for electronic devices: Higher numbers mean more resistance to dust and water.
For more information on IP ratings, see the IP section on the Certification page.


Specifications
| | |
| --- | --- |
| ISO 16331-1 certified typical measuring accuracy | ± 0.04 in / ± 1 mm |
| ISO 16331-1 certified typical range | Up to 500 ft / Up to 150 m |
| Measuring units | 0.000 m, 0.0000 m, 0.00 m, 0.00 ft, 0'00" 1/32, 0.00 in, 0 in 1/32 |
| Power Range Technology™ | Yes |
| Distance in m | 10, 50, 100 m |
| Ø of the laser dot in mm | 6, 30, 60 mm |
| Tilt sensor measuring range | 360° (ONLY active in Smart Horizontal mode) |
| Pointfinder with 4x zoom | Yes |
| Memory | Last 30 displays |
| Measurements per set of batteries | up to 5000 (with Li-iron LFP batteries) |
| Multifunctional end-piece | Automatic recognition |
| Batteries | type AA 2 × 1.5 V (ships with alkaline) |
| Tripod thread | ¼"- 20 |
| Protection class | IP65 – water jet protection and dust-tight |
| Dimensions | 5.6 x 2.3 x 1.1 in | 143 x 58 x 29 mm |
| EAN/UPC | 7640110695364 |
Price $560.00
Prices in RED are Canadian Dollars.
Prices in BLUE are US Dollars.
Prices subject to change without notice.
Please Note: Not all items listed in the catalogue are regularly stocked.
Please call or email to check current inventory levels.
For volume orders, please call for a quote. Tel: 416-588-6712 Toll Free: 1-888-516-3333
Email: norm.hussey@sourceshop.com
We are not limited to the products on this site. Please call or email us and we'll do our best to locate your product.