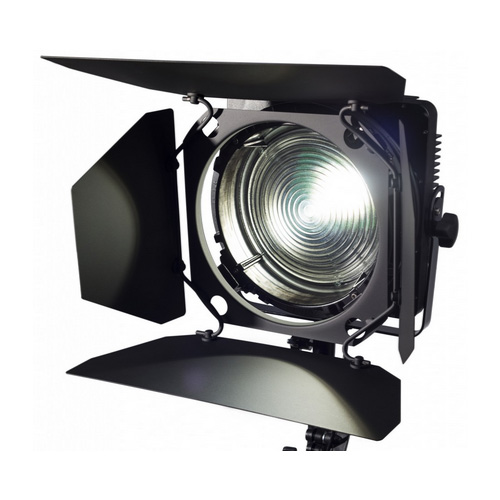 Zylight F8 Fresnel
The Fresnel light reimagined. The multiple award-winning F8 LED Fresnel from Zylight is the next generation of Fresnel lights.



By incorporating a special blend of Quantum nanoparticles with traditional phosphor the F8 boasts a CRI of 97+ and a quality of light matched only by traditional sunlight and incandescent bulbs, while using a fraction of the energy. All of the hallmarks of a traditional Fresnel light are present: single shadow beam shaping through barn doors, continuous focusing and a smooth light field. The Zylight F8 adds wireless and DMX control, water-resistant IP54 rating, and very rugged construction for field reliability. Available in both 3200K or 5600K colour temperature versions, the Zylight F8 is extremely compact, durable, and the most versatile Fresnel light ever built.


Field or Studio Friendly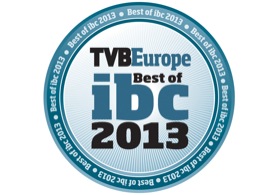 The Zylight F8 can be powered by both a worldwide AC power adapter or a standrad 14.4V camera battery for complete portability. Its thin design and shape allow it to pack into small cases and be taken anywhere. The water-resistant IP54 rating ensures the F8 will be comfortable in falling rain or snow and blowing dirt and dust. Whether shooting a stand-up in a hurricane or snow storm, the F8 will deliver bright light with ease. Try that with your traditional LED Fresnel. In the studio, all functionality of the Zylight F8 can be controlled via DMX or remotely via the built-in Zylink wireless link. Local control such as dimming, focus and wireless operation are provided on the rear of the F8. At 15" x 12" x 4" it will take up considerable less space in your grid than its traditional counterpart. The yoke mount allows for easy panning and tilting for quick focusing. The F8's silent operation means it can run in a studio setting without disruption of audio recording or talent distraction.


Ultra Bright Output
The F8's advanced ultra bright LED module ensures excellent skin tones and rich, accurate colour rendition. Continual focusing and an adjustable beam spread between 16-70 degrees allows for even coverage when shooting with wide-angle lenses or HD 16x9 format. The F8 uses a high quality glass 8" Fresnel lens and has an equivalent output of a traditional 650 watt instrument. Barn Doors, soft box, and other accessories will be available soon.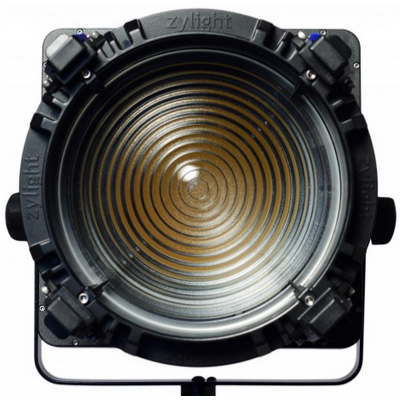 Features
Thin & Lightweight Design
High 97+ CRI
Water Resistant IP54 Rating
Continual Focus - Variable Spot - Flood
Completely Silent Operation
Single Shadow Beam Shaping
Fully Dimmable 100 - 0%
3200K or 5600K Versions
DMX or Wireless Operation
Battery or Worldwide AC Power
Yoke Mount for Pan & Tilt
Sturdy, Durable Aluminum Construction
Made Production Tough in the USA
Benefits
Packs Small and Light
No Heat. No Noise.
Low Power Draw
No Spare Bulbs to Buy or Carry
Low Maintenance Cost & Downtime
Very Portable. Use it Anywhere!
Water Resistant
Extremely Versatile Light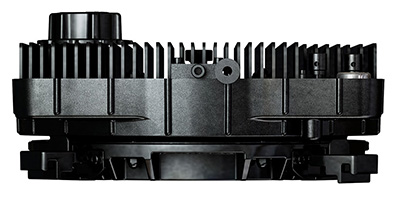 Specifications
Optical Dimension
8" Round traditional Schott glass Fresnel lens (203mm)
Size
15" x 12.6" x 4.6"
(382mm x 319mm x 97mm)
Weight
9 lbs (4.3 kg) w/ Yoke
Power Requirement
10-20 VDC
Energy Consumption
100W max. (8.0A @ 14VDC)
Power Input Plug
XLR 4-Pin
AC Power Supply
120 - 240V AC, 50/60 Hz
Colour Temperature
Fixed F8-T (3200K) #26-01019, F8-D (5600K) #26-01025
CRI Index
F8-T (3200K) up to 97 CRI, F8-D (5600K) up to 95 CRI
Beam Angle
16° - 70°, Variable Spot-Flood
Method of Focus
Rear knob. Continuously variable. No modifying lenses needed
Intensity
See Photometrics below
Dimming
0-100% (13-100% using ZyLink Remote)
Cooling
Passive/Silent
Operating Range
-20° to 40° C
Electrical Option
Worldwide AC power supply, 14.4VDC (8 AMP) camera battery powering (V-Mount, Gold Mount)
Mounting
Manual yoke, 5/8" Female spigot, Pole yoke (#26-02014),
Handle Kit (19-02041)
Wireless Frequency
2.45 GHz
Wireless Channels
9, User Selectable
Assembly Materials
Machined aluminum and high impact plastic
Calibration
Factory
IP Rating
54
Variable Refresh Rate (PVM)
11.8 KHz
LED Life
50,000 hrs. min. (quantum dot powered)
Flicker Free
up to 5,600 fps tested (Full brightness)
DMX Channels
CH1 - On/Off, CH2 - Brightness (0-100%)
Photometrics
Footcandles
| | | | | |
| --- | --- | --- | --- | --- |
| F8-D Flood | 590 fc | 150 fc | 23 fc | 17 fc |
| F8-D Spot | 2700 fc | 1021 fc | 180 fc | 120 fc |
| F8-T Flood | 250 fc | 86 fc | 15 fc | 11 fc |
| F8-T Spot | 2350 fc | 920 fc | 150 fc | 98 fc |
Lux
| | | | | |
| --- | --- | --- | --- | --- |
| F8-D Flood | 6300 lux | 1600 lux | 240 lux | 180 lux |
| F8-D Spot | 29000 lux | 11000 lux | 1900 lux | 1300 lux |
| F8-T Flood | 3440 lux | 926 lux | 161 lux | 118 lux |
| F8-T Spot | 25900 lux | 9200 lux | 1780 lux | 1110 lux |
DMX Assignments
| | | |
| --- | --- | --- |
| 1 | Power | OFF = 0 - 49%; ON = 50 - 100% |
| 2 | Brightness | 0 - 200% |
Kit Options
| | | | |
| --- | --- | --- | --- |
| 26-01020 | F8-D LED Fresnel (5600K) | Includes: F8 LED Fresnel Light-Daylight balanced, F8 Worldwide Power Adapter, AC Adapter Bag, Barn Doors, User Guide | $2,400.00 |
| 26-01026 | F8-D Single Head ENG Kit (Gold Mount) | Includes: F8 LED Fresnel Light-Daylight balanced, F8 Worldwide Power Adapter, AC Adapter Bag, Barn Doors, F8 Gold Mount Battery Kit, F8 Filter Kit, F8 Single Head Case, User Guide | $2,850.00 |
| 26-01027 | F8-D Single Head ENG Kit (V-Mount) | Includes: F8 LED Fresnel Light-Daylight balanced, F8 Worldwide Power Adapter, AC Adapter Bag, Barn Doors, F8 V-Mount Battery Kit, F8 Filter Kit, F8 Single Head Case, User Guide | $2,850.00 |
| 26-01025 | F8-D LED Fresnel Dual Head Kit (5600K) | Includes: (2) F8-D LED Fresnel Light-Daylight balanced, (2) F8 Worldwide Power Adapters, (2) AC Adapter Bags, (2) Barn Doors, User Guide | $4,750.00 |
| 26-01029 | F8-D Dual Head ENG Kit (Gold Mount) | Includes: (2) F8 LED Fresnel Light-Daylight balanced, (2) F8 Worldwide Power Adapters, (2) Barn Doors, (2) F8 Gold Mount Battery Kits, (2) F8 Filter Kits, F8 Dual Head Case, User Guide | $5,500.00 |
| 26-01030 | F8-D Dual Head ENG Kit (V-Mount) | Includes: (2) F8 LED Fresnel Light-Daylight balanced, (2) F8 Worldwide Power Adapters, (2) AC Adapter Bags, (2) Barn Doors, (2) F8 V-Mount Battery Kits, (2) F8 Filter Kits, F8 Dual Head Case, User Guide | $5,500.00 |
| 26-01019 | F8-T LED Fresnel (3200K) | Includes: F8 LED Fresnel Light-Tungsten balanced, F8 Worldwide Power Adapter, AC Adapter Bag, Barn Doors, User Guide | $2,400.00 |
| 26-01028 | F8-T LED Fresnel Dual Head Kit (3200K) | Includes: (2) F8-T LED Fresnel Light-Tungsten balanced, (2) F8 Worldwide Power Adapters, (2) AC Adapter Bags, (2) Barn Doors, User Guide | $4,750.00 |
Price $See Above
Prices in RED are Canadian Dollars.
Prices in BLUE are US Dollars.
Prices have not been updated and are not applicable.
We ar buiding a new site so please use this as an outdated guide only
Please call or email to check current product prices and stock.
Email: askus@sourceshop.com
Please email us with your equipment and supply needs and we will send you a quote