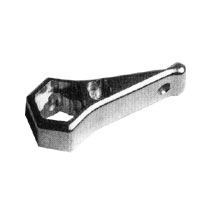 Mega-Combo Wrench

Key Chain Wrench That Fits Bolts On Most Fixtures.

The Mega-Combo Wrench is designed to keep you out of trouble. How many times have you needed to move a light but you didn't have a wrench? The Mega-Combo has a hole to attach to your key-chain, or drop in your pocket so you can always keep it handy. The Maga-Combo will allow you to move the light from pipe to pipe, tighten the pan bolt, and lock the tilt on most fixtures. It will even lock the small side square headed bolt on 99% of the old cast iron clamps and will also fit the bolts of the Micro-Clamp. (Fits bolt head sizes: hex 3/4" & 1/2"; square 1/2" & 5/16") The Mega-Combo weighs only 1.4 ounces and is 2-3/4" long. It is machined from a solid aluminum alloy to be trouble free for years and has a bright burnished finish.

Price $12.00

Prices in RED are Canadian Dollars.
Prices in BLUE are US Dollars.
Prices subject to change without notice.
Please Note: Not all items listed in the catalogue are regularly stocked.
Please call or email to check current inventory levels.
For volume orders, please call for a quote. Tel: 416-588-6712 Toll Free: 1-888-516-3333
Email: norm.hussey@sourceshop.com
We are not limited to the products on this site. Please call or email us and we'll do our best to locate your product.