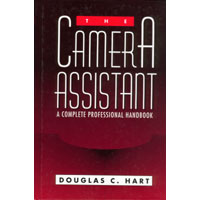 The Camera Assistant

Veteran camera assistant Douglas C. Hart describes all of the important facets and duties of the first and second camera assistants' jobs - from the pre-production equipment checkout through the actual shooting to the equipment wrap.

Whether it is feature films, episodic television, documentaries, commercials, or music videos, The Camera Assistant explains both practice and the theory with a concentration on technique rather than equipment. In addition, personal anecdotes from the author's years beside the camera provide insight into this demanding field.
Key topics include film formats and aspect ratios, testing lenses and camera equipment, focus theory, film loading and labeling, scene blocking, marking actors, shooting tips, slating, paperwork, equipment maintenance, set etiquette, and finding work. This is not a camera equipment handbook; it is a comprehensive procedures manual which describes and explains the most important responsibilities of the camera assistant on the set; theory behind the practice, and the methods that get the job done properly and keep the assistant frequently employed.

Price $58.00

Prices in RED are Canadian Dollars.
Prices in BLUE are US Dollars.
Prices subject to change without notice.
Please Note: Not all items listed in the catalogue are regularly stocked.
Please call or email to check current inventory levels.
For volume orders, please call for a quote. Tel: 416-588-6712 Toll Free: 1-888-516-3333
Email: norm.hussey@sourceshop.com
We are not limited to the products on this site. Please call or email us and we'll do our best to locate your product.