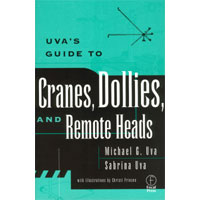 UVA'S Guide To Cranes, Dollies, and Remote Heads

This book offers the practicing grip a streamlined reference to all of the latest equipment - what it is , where to find it, and how to use it. Directors, producers, and camerapersons, as well as a host of other production personnel, will find this handy reference a "must-have".

Anyone who is responsible for determining and securing equipment for a project will rely on this comprehensive map of equipment in planning and daily production duties. Heavily illustrated and thoroughly indexed, this guide also lists standards and features of different types of equipment covered. Studio professionals will consider this an indispensable tool that will soon become an industry standard.

Price $48.50

Prices in RED are Canadian Dollars.
Prices in BLUE are US Dollars.
Prices subject to change without notice.
Please Note: Not all items listed in the catalogue are regularly stocked.
Please call or email to check current inventory levels.
For volume orders, please call for a quote. Tel: 416-588-6712 Toll Free: 1-888-516-3333
Email: norm.hussey@sourceshop.com
We are not limited to the products on this site. Please call or email us and we'll do our best to locate your product.