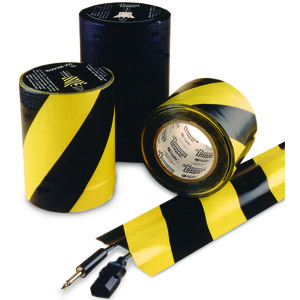 Tunnel Tape

Keeps Cables, Wires And Cords In Place In A Non-Sticky Tunnel.

This powerful tape adheres on the edges, not the centre area. Tunnel Tape's high-tack adhesive and durable cloth backing holds the cables firmly in place reducing the chances of tripping. OSHA-compliant yellow and black stripped Tunnel Tape is available for safety applications.

Applications include: taping down wires and cables in cention centres, auditoriums, stages and TV studios.


S54 & S56 Tunnel Tape
Adhesive is zone coated on edges of hand tearable and puncture resistant cloth backing creating a non-adhesive tunnel for wires, cables, or cords to lay (pass) under. Removes easily from carpet and other surfaces without leaving a residue. Can be repositioned several times without loss of adhesion. Available in 3", 4", and 6" widths (only 4" and 6" are normally kept in stock).


PRODUCT
S54
S56
BACKING
PE Coated Cloth
PE Coated Cloth
ADHESIVE
Natural Rubber
Natural Rubber
TOTAL THICKNESS
10 mils
11.8 mils
ADHESION TO
STAINLESS STEEL
54 oz/in
29 oz/in
SERVICE TEMPERATURE
RANGE
-31°F to 176°F
-31°F to 176°F
COLOUR
Black
Black/Yellow Hazard Stripe
Length of Roll
40 yards
40 yards
Features
Hand tearable
Strong puncture resistant
Removable
No cable cleanup
Repositionable


To achieve ultimate adhesion, the bonding surface should be dry, clean and free of dirt and oils. The strength of the adhesive bond is dependant on the amount of surface area directly contacting the adhesive. Firm Pressure is recommended to obtain good adhesive to surface contact.

Pricing
| | |
| --- | --- |
| 4" Black Tunnel Tape (S54) | $38.00 |
| 6" Black Tunnel Tape (S54) | $59.00 |
| 4" Black/Yellow Tunnel Tape (S56) | $38.00 |
| 6" Black/Yellow Tunnel Tape (S56) | $59.00 |
Price $See Above
Prices in RED are Canadian Dollars.
Prices in BLUE are US Dollars.
Prices have not been updated and are not applicable.
We ar buiding a new site so please use this as an outdated guide only
Please call or email to check current product prices and stock.
Email: askus@sourceshop.com
Please email us with your equipment and supply needs and we will send you a quote