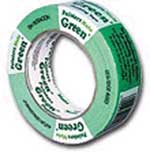 Masking Tape- Painters Mate Green

Painters Tape - Masking Tape.

This painter`s high performance masking tape is made with an exclusive aqueous (water)/rubber based adhesive system. This allows the tape to stay on longer and remove cleaner. Removes clean up to 8 days in direct sunlight. Will not pull paint off properly prepared, fully cured surfaces. Will not leave adhesive transfer or paint bleed-through. Strong crepe paper makes masking curved areas easier.

We Stock:
1" x 180 Feet: $2.90
2" x 180 Feet: $5.95

Price $See Above

Prices in RED are Canadian Dollars.
Prices in BLUE are US Dollars.
Prices subject to change without notice.
Please Note: Not all items listed in the catalogue are regularly stocked.
Please call or email to check current inventory levels.
For volume orders, please call for a quote. Tel: 416-588-6712 Toll Free: 1-888-516-3333
Email: norm.hussey@sourceshop.com
We are not limited to the products on this site. Please call or email us and we'll do our best to locate your product.