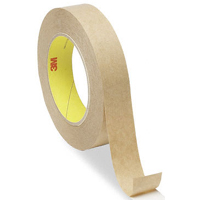 Adhesive Transfer / Snot Tape

Snot Tape - #4450

Some call it snot tape aka clear butyl but this is the actual description - Scapa 4450 is a versatile acrylic transfer tape with a high tack permanent adhesive recommended for all permanent bonding, mounting, laminating and splicing applications where high temperature performance is required. Scapa 4450 is suitable for bonding a wide variety of similar and dissimilar substrates, imparting a self adhesive feature to such items as labels, nameplates etc. It is also ideal for mounting photographs and posters. Scapa 4450 can be used as a splicing tape for film, foils and papers except for siliconised ones.
We say that snot tape is a sticky rubbery adhesive that is handy for temporarily mounting things.

We stock:
1/2" x 36 yds: $6.80
3/4" x 36 yds: $9.20

Price $See Above

Prices in RED are Canadian Dollars.
Prices in BLUE are US Dollars.
Prices subject to change without notice.
Please Note: Not all items listed in the catalogue are regularly stocked.
Please call or email to check current inventory levels.
For volume orders, please call for a quote. Tel: 416-588-6712 Toll Free: 1-888-516-3333
Email: norm.hussey@sourceshop.com
We are not limited to the products on this site. Please call or email us and we'll do our best to locate your product.