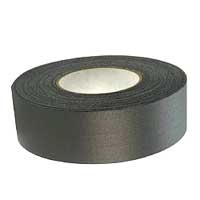 Camera Cloth (Gaffer) Tape

Cloth Camera Gaffer Tape.

Premium cloth tape. Engineered for use in the most demanding applications, such as securing and holding lights, stage and set decoration, spiking, and color-coding. Water resistant, high temperature and weather resistant. Removes cleanly from most surfaces.

Available In Colours:

Black and White:
1/2" - $7.00, 1" - $12.00, 2" - $23.50

Electric Blue, Green, Purple, Red, Yellow, Grey, Brown.
1/2" - $7.50, 1" - $12.50, 2" - $25.00

Fluorescent Colours:
Green, Orange, Pink, Yellow.
1/2" - $7.75, 1" - $13.70, 2" - $27.00

Price $See Above

Prices in RED are Canadian Dollars.
Prices in BLUE are US Dollars.
Prices subject to change without notice.
Please Note: Not all items listed in the catalogue are regularly stocked.
Please call or email to check current inventory levels.
For volume orders, please call for a quote. Tel: 416-588-6712 Toll Free: 1-888-516-3333
Email: norm.hussey@sourceshop.com
We are not limited to the products on this site. Please call or email us and we'll do our best to locate your product.