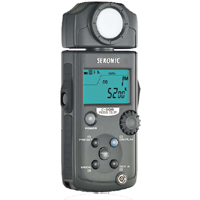 Sekonic Prodigi Color C-500R

With the new PRODIGI COLOR C-500R, Sekonic gives photographers the world's only photographic colour meter designed to read spectral sensitivity of both colour film and CCD/CMOS sensors used in today's digital still and DV cine cameras.

Digital and Film Compatible
The PRODIGI COLOR C-500R measures and displays colour temperature and compensation values in LB/CC index or filter numbers for both digital and film cameras. In Digital mode, the colour temperature and compensation readings are based on human visual response. In Film mode, readings are based on the colour characteristics of traditional photographic film. By engineering the spectral characteristics of both systems into a single meter, Sekonic designers have given today's digital and film photographers greater control over lighting and colour reproduction than ever before.

Engineering a meter to accurately measure colour for both human visual response (digital sensors) and the characteristics of photographic colour film required more than just creating a new set of algorithms to process the data. Properly measuring red intensity was a major hurdle. Sekonic designers solved the problem by incorporating four colour sensors: a Red sensor for visual/digital response (Rd); a Red sensor for photographic film response (Rf); a Green sensor (G); and a Blue sensor (B). They then developed a new "Simulated Spectrum" software solution (patent pending) that emulates the blue and green channel colour response for both digital and film.

Wireless Radio Triggering Mode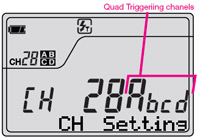 The PRODIGI COLOR C-500R is the first colour meter to incorporate a flash triggering radio transmitter module. Simply press the measuring button to wirelessly trigger flash units up to 100 feet away. The built-in transmitter is compatible with PocketWizard's radio triggering systems, as well as the PocketWizard Wireless Freedom partners (Profoto, Dyna-lite, Photogenic, Norman and Lumedyne with built-in PocketWizard radio technology). The Wireless Radio Triggering Mode offers 32 digital coded channels and four Quad-Triggering Zones.

Illuminance Measurement


The brightness of continuous light sources is displayed in LUX (lx) or Foot-Candle (FC). Illuminance measurement is especially useful for cinematography, videography, theatrical and other applications that require precise control light source brightness.

Colour Values Displayed in Three Ways


COLOUR TEMPERATURE DISPLAY (in Kelvin)
The colour temperature is displayed for human visual response in Digital Mode or the spectral response for photographic colour film in Film Mode.



LB / CC INDEX DISPLAY
Light Balancing in MK-1 (Per Mega Kelvin) and Colour Compensation Index correspond to light source filtration systems. The correction values can be directly entered into the colour adjustment mode of some professional DSLR cameras.



LB/CC FILTER NUMBER DISPLAY
Light Balancing and Colour Compensation filtration for lens or light-source filtration is displayed in direct filter values. The display can be adjusted to read out in KODAK Wratten, LEE or FUJIFILM.

Click here to download the brochure.

Click here to view the Sekonic website.

Price $1457.00

Prices in RED are Canadian Dollars.
Prices in BLUE are US Dollars.
Prices have not been updated and are not applicable.
We ar buiding a new site so please use this as an outdated guide only
Please call or email to check current product prices and stock.
Email: askus@sourceshop.com
Please email us with your equipment and supply needs and we will send you a quote