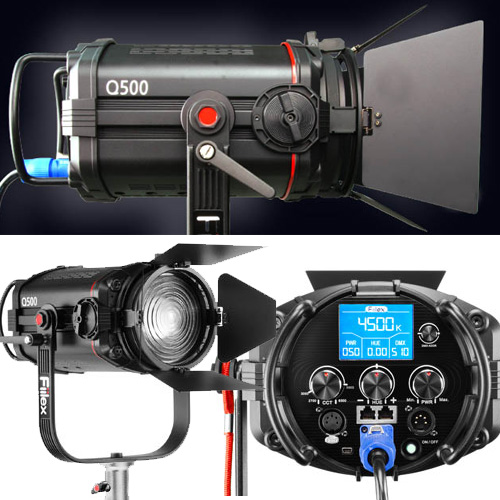 Fiilex Q500 LED Fresnel
The Q500 leads the revolution in LED Lighting, intense power and control in a form smaller and lighter than previously seen in LEDs. The lighting world just got a lot brighter, and a lot more efficient. This one light replaces both your daylight and tungsten lights, and you can also leave behind your colour correction gels, scrims, and grip gloves.
Spectacular Specular Light

The Q500 produces an amazing 750W equivalent output while only using 185W. It is flicker free at any frame rate and can be dimmed from 100-5% with smooth transitions. It has an adjustable beam angle 50°-27° (with Fresnel lens). This cinematic light belongs in pictures... yours.

Ambient Light Matching and More

The Q500 is colour tunable between 2800-6500K and has Hue Control of ± .25 Magenta/Green, you can quickly correct for different light temperatures, sensor bias, or even adjust for different skin tones.

First light with Built in DMX Control

The Q500 is our first light with built in DMX control (512 Addresses), an LCD display, XLR5 in/out, and RJ45 in/out. You can adjust the settings of the light from the comfort of your control board so it's easy to change your lighting quickly, and keep shooting.
Features
750W Equivalent Output (Tungsten) - Draw 185W
Colour Temperature Range 2800-6500K
Hue Control ± .25 Magenta / Green
Full Spectrum Light Quality - No Spikes
Dimming (100%-5%)
Flicker Free at any Frame Rate
Single Point Light Source - Adjustable Beam Angle 50° to 27°
Solid State Technology - No Bulbs to Replace
Does Not Emit UV Light/Radiation
DMX Control Built In
LCD Display
Specifications
Size
L 12" x W 12.75" x H 15" (with Yoke)
305mm x 325mm x 380mm (with Yoke)
L 12" x W 9" x H x 6.75" (without Yoke)
305mm x 230mm x 172mm (without Yoke)
Weight (Include Yoke)
12 lbs / 5.5 kg
LED
Dense Matrix LED
Thermal Design
Advanced Vapour Cooling
Beam Angle
27° - 50° (with Fresnel lens)
CCT Range
2800-6500K Continuous Tuning
Hue Control
± .25 Magenta/Green
CRI
>93
LED Life
42,000 hrs - (15 Years of average use)
Power Consumption
185W Max / Comparable in Output to 750W Tungsten
Input Voltage
AC Power: 100-240 VAC, 50~60Hz, Max 185W
Input Port
Detachable Power Con Cable
DMX Control
2 XLR ports and 2 RJ45 ports (512 Addresses)
Temperature Range
32-104ºF / 0-40º C (over temperature protection)
Photometrics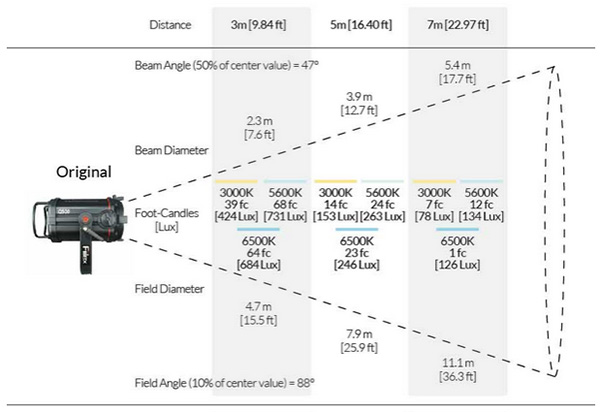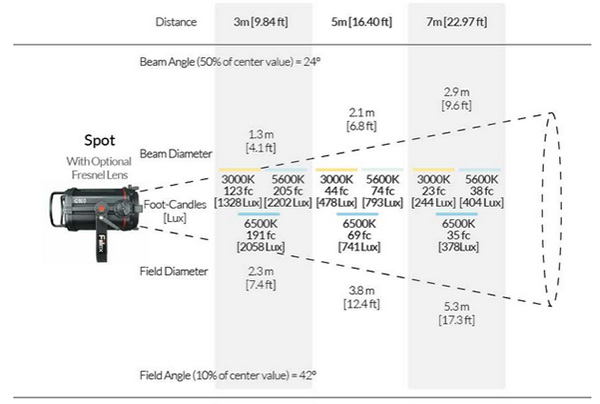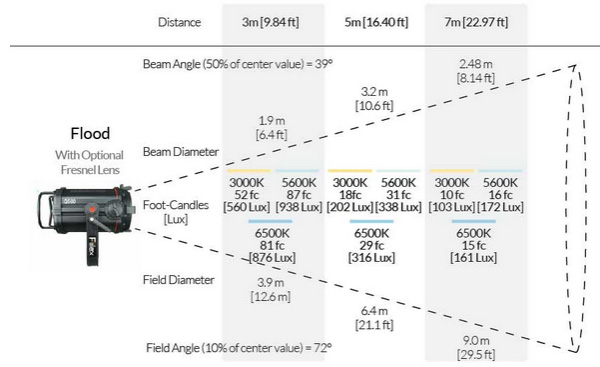 Items Included
| | |
| --- | --- |
| (1) Q500 Light Head | |
| (1) Q500 Barndoor | |
| (1) 5" Fresnel Lens | |
| (1) 20' PowerCon Cable | |
| (1) Cord Tie | |
Compatible Accesories
| | |
| --- | --- |
| Dome Diffuser | |
| Dome Diffuser Extension | |
| Fresnel Lens | |
Price $2495.00
Prices in RED are Canadian Dollars.
Prices in BLUE are US Dollars.
Prices subject to change without notice.
Please Note: Not all items listed in the catalogue are regularly stocked.
Please call or email to check current inventory levels.
For volume orders, please call for a quote. Tel: 416-588-6712 Toll Free: 1-888-516-3333
Email: norm.hussey@sourceshop.com
We are not limited to the products on this site. Please call or email us and we'll do our best to locate your product.