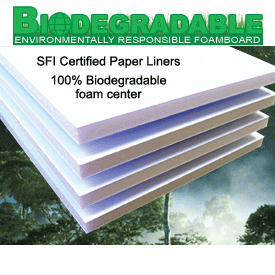 Biodegradable Foamcore

The Source Shop is your source for environmentally friendly, biodegradable foam core at no extra cost!

Description:

Standard, paper-faced memory foamboard with a biodegradable rigid foam centre and SFI (Sustainable Forest Initiative) certified paper liners. There is no trade-off between the positive environmental attributes of biodegradable foamcore and its physical performance. With the exception of it's biodegradable properties, it functions in the same way as the old foamcore that you're used to.

Biodegradable Polystyrene Foam Centre:

Rigid foamboard breaks down in landfills or composting environments in 1 to 5 years whereas conventional foamcore will not biodegrade for 80 to 450 years! The Polystyrene centre contains 15% recycled content and is formulated with "bio resins". These bio resins cause the discarded foamboard to degrade in landfills or commercial composters once the foam is exposed to a bacteria-rich environment. These bio resins actually transform the structure of the polystyrene, while attracting microorganisms that metabolize and neutralize the plastic. Only a biomass compost remains after decomposition. This material is safe for the environment.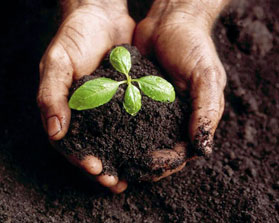 Liners:

Our biodegradable foamcore is faced with bright white paper liners manufactured with wood products sourced from the Sustainable Forest Initiative (SFI).

Forest Certification is a market-based, non-regulatory forest conservation tool designed to recognize and promote environmentally responsible forestry and sustainability of forest resources. The forest certification process involves an evaluation of land management planning and forestry practices by a third-party according to an agreed-upon set of standards. Certification standards address social and economic welfare as well as environmental protection.

Headquartered in Arlington, Virginia, SFI is an independent organization that sets North American-based standards for forest management. Endorsed by PEFC for global recognition of acceptable standards , it includes 135 million acres in North America and is the largest certification program in U.S. and Canada. With 212 participants, the program accounts for over 1.2 million acres re-forested in 2006 and over $880 million investment by participants in sustainable forestry research since the program began in 1995.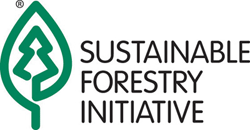 Testing/Certification:

The biodegradation properties of material samples used in the manufacture of this biodegradable foamcore were tested by an independent laboratory using standard ASTM methods, as well as other established tests.


Currently only White on White Biodegradable foamcore is available
but our supplier is working really hard on making some black!
Price $20.00
Prices in RED are Canadian Dollars.
Prices in BLUE are US Dollars.
Prices subject to change without notice.
For volume orders, please call for a quote. Tel: 416-588-6712 Toll Free: 1-888-516-3333
Email: norm.hussey@sourceshop.com
We are not limited to the products on this site. Please call or email us and we'll do our best to locate your product.