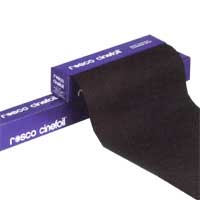 Cinefoil (Black Wrap) - Rosco

Matte Black Cinefoil By Rosco.

A matte black aluminum material that virtually soaks up light. Ideal for masking light leaks and/or eliminating unwanted reflections. It can be quickly molded to form barndoors, flags and other configurations. Lightweight, yet durable, Cinefoil can be quickly positioned in place with tape, staples or adhesive. Packaged in a handy dispenser box.

Cinefoil 24" x 25` $39.60
Cinefoil 12" x 50` $39.60
Cinefoil 48" x 25` $82.00


Price $See Above

Prices in RED are Canadian Dollars.
Prices in BLUE are US Dollars.
Prices subject to change without notice.
Please Note: Not all items listed in the catalogue are regularly stocked.
Please call or email to check current inventory levels.
For volume orders, please call for a quote. Tel: 416-588-6712 Toll Free: 1-888-516-3333
Email: norm.hussey@sourceshop.com
We are not limited to the products on this site. Please call or email us and we'll do our best to locate your product.