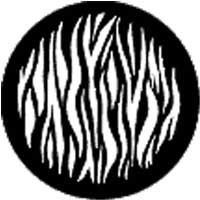 Gobos - Rosco

Steel Gobos - Colorizers - Image Glass - Prismatics - Signature Series Spectrumgobos - Custom Gobos - Imagepro.

Texture and shading will enhance any lighting design, and Rosco offers more than a 1000 standard designs for doing so. Adding on to the widest range of standard steel gobos designs, Rosco has developed a variety of unique glass gobo types that provide designers with all new levels of creativity in their projects.

Prices:
Standard Stainless Steel Gobos
Any Size: $19.50

For custom gobos, please call or email for a quote.

Click here to view the Rosco Gobo Catalogue

Please Note: Gobos are not kept in stock but can usually be ordered quickly.

Price $See above

Prices in RED are Canadian Dollars.
Prices in BLUE are US Dollars.
Prices subject to change without notice.
Please Note: Not all items listed in the catalogue are regularly stocked.
Please call or email to check current inventory levels.
For volume orders, please call for a quote. Tel: 416-588-6712 Toll Free: 1-888-516-3333
Email: norm.hussey@sourceshop.com
We are not limited to the products on this site. Please call or email us and we'll do our best to locate your product.