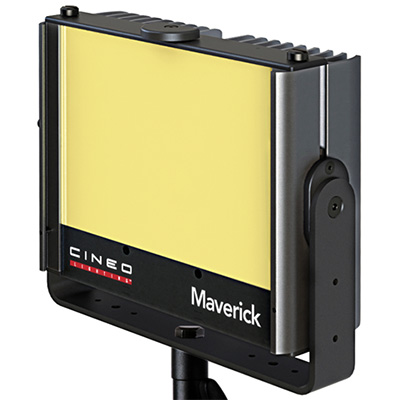 Cineo Maverick

Cineo Maverick is the long-awaited portable member the family from Cineo Lighting. This evolutionary fixture provides all of the benefits of Remote Phosphor Technology found in the TruColor HS and LS, while better meeting the demands of field use: lightweight, DC Powered and weatherproof.

Cineo Maverick delivers a volume of light equal to a traditional 1K soft source, optimized for image capture as well as other applications that demand accurate colour rendering.

With a wide array of accessories, power supply, and mounting options, Maverick becomes another indespensible tool for motion picture and television professionals from Cineo Lighting.

As with Cineo's TruColor HS and LS, interchangeable phosphor panels permit a variety of colour temperatures in one fixture. Extended CRI for Maverick is over 95 and it generates the same 160° beam spread as HS and LS.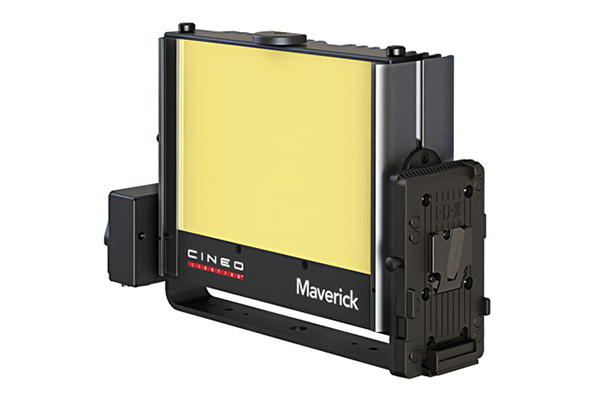 Features
Portable:
Operates on 12-32 VDC from a variety of power sources
Highly Accurate Colour Rendering:
CRI 98 @ 2700K, CRI 98 @ 3200K,
CRI 97 @ 4300K, CRI 94 @ 5600K,
CRI 93 @ 6500K
Super Bright, Hyper Soft:
Over 20fc @ 10' (215 lx @ 3m) with a 160° beam spread
Dimmable:
Rotary on-board or DMX control: 0-100% with no colour shift
Flicker-free:
No flicker at any frame rate
Passive Cooling:
Lamp head has no fan, no noise
Field Replaceable Components:
Modular design for easy service

Designed and manufactured in the USA


Specifications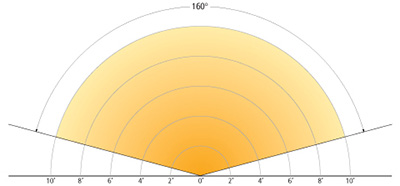 Super Bright, Hyper Soft:
Over 700 lx @ 3m with a 160° spread
Output:
2700K = 17 fc @ 10 ft. (183 lx @ 3m)
3200K = 19 fc @ 10 ft. (205 lx @ 3m)
4300K = 22 fc @ 10 ft. (237 lx @ 3m)
5600K = 23 fc @ 10 ft. (248 lx @ 3m)
6500K = 23 fc @ 10 ft. (248 lx @ 3m)
Colour Temperature:
2700K, 3200K, 4300K, 5600K, 6500K
Beam Angle:
> 160°
Dimming:
Rotary on-board or DMX control: 0-100%
Input Power:
12-32 VDC,
120 watts max
Output Frequency:
0 (Direct current drive)
Environmental temperature range:
-20° to +50°C
Max temperature rise:
+45°C
Lamp Life:
35,000 hours, L70 rated
Mounting:
80/20 T-slot mounting, removable yoke
Certification:
ETL, cETL pending
CE compliant
Dimensions:
Lamp head (w/yoke): 9.5"H x 11.06"W x 3.33"D
(241mm x 280mm x 84.6mm)
Weight:
Lamp head: 4.9 lbs (2.3 kg)
Warranty:
Two years parts and labour
Accessories:
90° Louvre
Gel Frame
Barn Doors
Snap Grid
Softbox
Colour Quality
Maverick delivers an unprecendented volume of soft light optimized for image capture. The CRI chart below displays measurements for Maverick in the extended colour range for five colour temperatures. To the right of the CRI is a table showing results based on the new TLCI standard.





The split colour chart below shows the colour response Maverick@3200K and tungsten split across each sample with tungsten on top.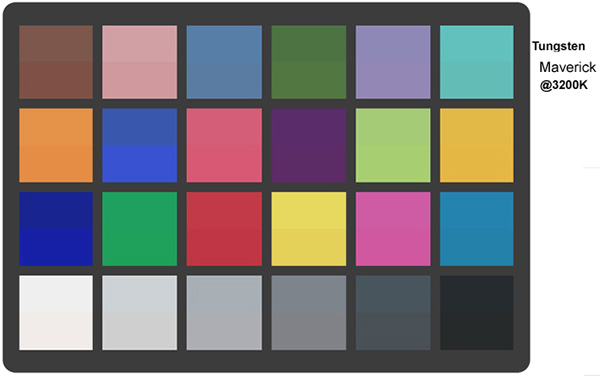 A CIE 1931 graph and spectral data as measured by a spectrometer for the three colour temperatures are shown below.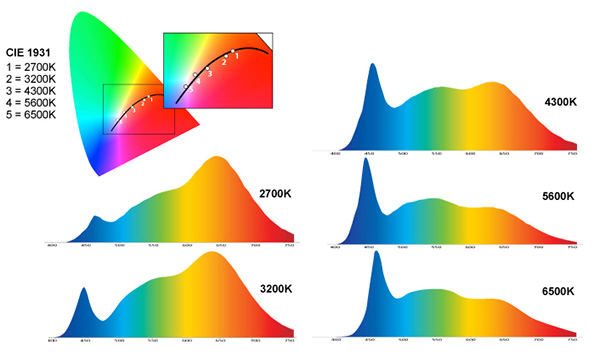 Downloads
Cineo Maverick Cut Sheet
Remote Phosphor Info Sheet
Price List
Product
Item Code
Description
Price
900.0085
Cineo Maverick Lamphead and Yoke
$1,449.00
900.0095
900.0195
Cineo Maverick 120W AC Adapter
Cineo Maverick 150W AC Adapter
$275.00
$295.00
900.0050
900.0051
900.0052
AC Power Cord - Edison to Locking IEC, 6ft.
AC Power Cord - UK 13A to Locking IEC, 2m
AC Power Cord - Schuko to Locking IEC, 2m
$24.00
$36.00
$30.00
900.0086
Cineo Maverick V-Lock Battery Adapter
$249.00
900.0094
Cineo Maverick A/B Gold Mount Battery Adapter
$299.00
900.0087
Cineo Maverick DMX Adapter
$399.00
900.0058
TVMP Adapter
$24.00
900.096
Cineo Maverick Backpack Accessory Bracket
$98.00
900.0090
Cineo Maverick Gel Frame
$80.00
900.0089
Cineo Maverick 4-Leaf Barn Door Set
$200.00
900.0088
Cineo Maverick 90° Louvre
$120.00
900.0083
Cineo Maverick Lamphead Only - No Yoke, No Panels
$1,249.00
900.0084
Cineo Maverick Yoke Assembly
$225.00
901.0082
Cineo Maverick Daylight Studio Kit
Includes: Fixture, 5600K Panel, DMX Adapter,
AC Adapter, Stand Adapter
$2,350.00
901.0081
Cineo Maverick Tungsten Studio Kit
Includes: Fixture, 3200K Panel, DMX Adapter,
AC Adapter, Stand Adapter
$2,350.00
901.0080
Cineo Maverick Bi-Colour Portable Kit
Includes: Fixture, Yoke, 3200K and 5600K panels,
AC Adapter, Accessory Bracket, Stand Adapter
$2,195.00
902.1227
902.1232
902.1243
902.1256
902.1265
902.1240
902.1250
LS/Maverick Phosphor Panel - 2700K
LS/Maverick Phosphor Panel - 3200K
LS/Maverick Phosphor Panel - 4300K
LS/Maverick Phosphor Panel - 5600K
LS/Maverick Phosphor Panel - 6500K
LS/Maverick Phosphor Panel - Chroma Blue
LS/Maverick Phosphor Panel - Chroma Green
$250.00
$200.00
$250.00
$200.00
$250.00
$95.00
$350.00
902.0013
RP Panel Pouch
$95.00
Price $See above
Prices in RED are Canadian Dollars.
Prices in BLUE are US Dollars.
Prices have not been updated and are not applicable.
We ar buiding a new site so please use this as an outdated guide only
Please call or email to check current product prices and stock.
Email: askus@sourceshop.com
Please email us with your equipment and supply needs and we will send you a quote