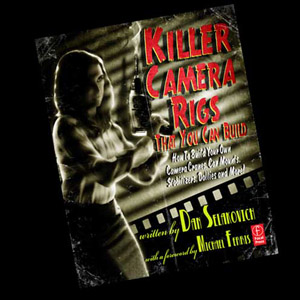 Killer Camera Rigs That You Can Build

This new edition is HUGE, with tons of new stuff. There are over 2000 step-by-step photos. With that in mind, building any project in this book, from a simple camera dolly to a slightly more complex camera stabilizer will be super easy if you're good at step-by-step instructions.

With every plan in this book, you'll get a photo shopping list of the parts you'll need and a photo list of each tool as well. Don't know what a lock nut is? Just look at the photo. Easy.

For those of you not familiar with Killer Camera Rigs That You Can Build, this book will vastly lower the cost of doing high production value films. For less than the cost of renting a crane for a day, you can build one yourself and have it always on hand. Not to mention car mounts, shoulder mounts, dollies, stabilizers, camera pedestals, sandbags … the list is pretty long. Check out the table of contents and see how many incredible designs are packed into this book:


Section 1: Dollies


The Dark Passage Dolly
The Killers Dolly
The Gun Crazy Camera Pedestal
The Naked Kiss Upside-Down Dolly Camera Mount
The Dark Corner PVC Dolly Track
The Cry Vengence Dolly Rail Padding
The Theives' Highway Angle Dolly Track
The Glass Key Pro Dolly Track
How to Lay Out and Level Dolly Track
Troubleshooting Dolly Problems

Section 2: Handheld Rigs


The Shock Corridor Camera Stabilizer
The Sweet Smell of Success Pooper-Scooper Cam
The City Streets Circle Rig
The Storm Fear Shoulder Mount

Section 3: Cranes


The Killer's Kiss Crane
The Big Combo Crane
The Double Indemnity Crane
Working with a Crane
The T-Men Crane Weight Holder

Section 4: Filmmaking Tools You Just Gotta Have


The They Drive by Night Car Mount
The Third Man Tripod
The Guilty Bystander Camera Mount for the Third Man Tripod
The Steel Trap Spreader
The Harder They Fall Sandbag
The Harder They Fall Sandbag Jr.
Painting Your Rigs
Working With Metal
Price $28.00 CLEARANCE
Prices in RED are Canadian Dollars.
Prices in BLUE are US Dollars.
Prices subject to change without notice.
Please Note: Not all items listed in the catalogue are regularly stocked.
Please call or email to check current inventory levels.
For volume orders, please call for a quote. Tel: 416-588-6712 Toll Free: 1-888-516-3333
Email: norm.hussey@sourceshop.com
We are not limited to the products on this site. Please call or email us and we'll do our best to locate your product.