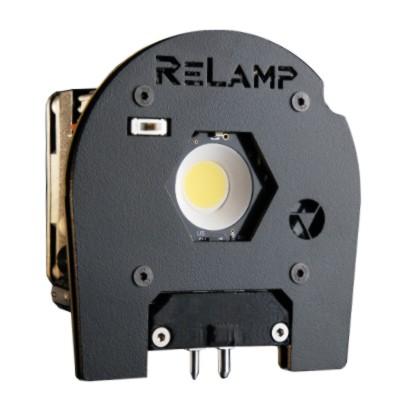 650W LED Replacement Lamp

One of your favourite location lights is now a heat-free, low-power tungsten or daylight source

This LED fits the Arri 650-Plus Fresnel. It dims the same as a halogen lamp on an AC dimmer of your choice: even a $10 'lamp dimmer' works great.

The upgraded light draws only 75 watts and supports external legacy AC dimmers. It focuses from 20 to 40 degrees using the fixture's existing mechanism. It produces high-quality, daylight-balanced light with smooth, natural spectral distribution – 95 CRI.

In ten seconds, your upgraded Fresnel will:

Only draw 75 watts
Cast no heat on the subject
Dim without color shift on the same dimmers you are using now
Be brighter than the stock Tungsten fixture
Be the highest-quality, Daylight 650 LED Fresnel available
Be 1/4 the cost of any comparable LED
Features
Ultra-High Quality: 98CRI – matches Tungsten or Daylight without correction
Less than half the cost of any comparable LED Fresnel solution.
Brighter: 75W LED is brighter than a 650W Halogen
Full-range dimming on your existing AC Dimmers – without colour shift!
Flicker-Free at any frame-rate
Safe: no burns, no gloves, no fire hazard, does not explode like Halogen
No heat on subject or talent
Green: Easiest way to make your business sustainable.
Reliable: Fully self-protected for a very long life.
ROI: A typical TV studio saves thousands in the first year!
Directly Replaces FRK 650W Tungsten Halogen Lamp
Mounting Base GY 9.5
Power 75W / 0.6A, Accepts 95-150V (240V version available in December)
Dimming Full range dimming on your existing dimmers.
Colour Quality:
Daylight Version: 95 CRI / 96 CQS / 96 TLCI
Tungsten Version: 98 CRI / 97 CQS / 98 TLCI

Weight 0.5lb
Fuse 1A
Price $835.00
Prices in RED are Canadian Dollars.
Prices in BLUE are US Dollars.
Prices subject to change without notice.
Please Note: Not all items listed in the catalogue are regularly stocked.
Please call or email to check current inventory levels.
For volume orders, please call for a quote. Tel: 416-588-6712 Toll Free: 1-888-516-3333
Email: norm.hussey@sourceshop.com
We are not limited to the products on this site. Please call or email us and we'll do our best to locate your product.