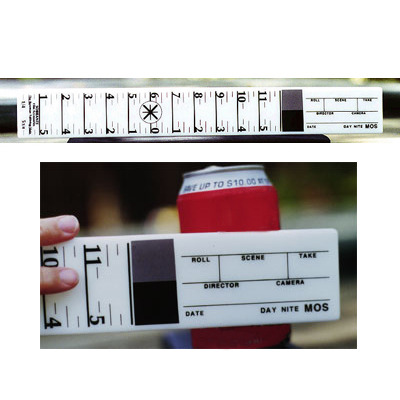 Tabletop Slate

This slate is the perfect tool to use when shooting tabletop, miniatures, or animation.

There are two rulers: one assists in "film plane to subject" measurements and the other is to accurately measure your depth of field through the camera. Simply place the "0" at your focus plane and the numbers on either side will show you how many inches you have in focus at your working T-stop.

The "X" is to help you with fine focus. The grey/black scale helps accurate negative to tape transfer. The insert slate is small enough to fit most tabletop closeups and the ruler helps you to hold the slate in the shot without disturbing the products.

This item is not normally stocked and will generally require ordering in advance.

Price $30.00

Prices in RED are Canadian Dollars.
Prices in BLUE are US Dollars.
Prices subject to change without notice.
For volume orders, please call for a quote. Tel: 416-588-6712 Toll Free: 1-888-516-3333
Email: norm.hussey@sourceshop.com
We are not limited to the products on this site. Please call or email us and we'll do our best to locate your product.