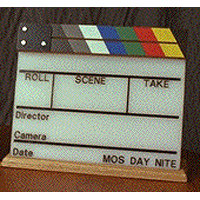 Engraved Colour Reference Slate

Engraved Layout with Colour Reference Sticks

These slates are identical to our regular film slates but have laminate stripes of the basic Kodak colours on the sticks.

Price $95.00

Prices in RED are Canadian Dollars.
Prices in BLUE are US Dollars.
Prices subject to change without notice.
Please Note: Not all items listed in the catalogue are regularly stocked.
Please call or email to check current inventory levels.
For volume orders, please call for a quote. Tel: 416-588-6712 Toll Free: 1-888-516-3333
Email: norm.hussey@sourceshop.com
We are not limited to the products on this site. Please call or email us and we'll do our best to locate your product.