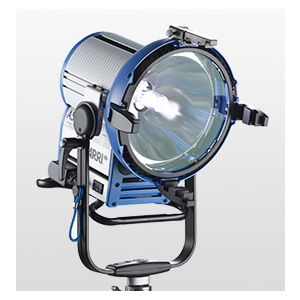 ARRI - Arrisun 18

The Daylight range using Double-Ended daylight lamps has been the main stay of the film industry for many years.

The result is an exciting new class of HMI, as small as a 1200 W PAR but with a 70 percent higher light output.

The use of an 1800 W lamp is made possible by the patented True Blue Cross cooling* system, which maintains airflow at any tilt angle. This keeps all parts of the fixture within safe working limits.

The AS18 uses the same lenses, cables and accessories as the former ARRISUN 12, and has similar beam spreads. For compatibility, the lamphead can even be used with a 1200 W lamp and powered by either the purposedesigned EB1200/1800 or any ARRI 1200 W ballast.


Features
Uses existing ARRISUN 1200 lenses
New 1800 W lamp
Virtually the same size as a 1200 W lamphead but more than 70% brighter
Runs from most domestic sockets world-wide
Uses existing 575/1200 cables
Can also be used with 1200 W lamps and ballasts
Cross cooling allows safe operation at any tilt angle
TRUE BLUE tilt lock holds even heavy Chimeras
Easy maintenance
Protection class IP 23
Technical Data
Lamphead Type:
PAR,1800 W
Reflector Type:
High purity aluminum parabolic
Lamp Type:
Metal Halide 1800 W/SE;
Metal Halide 1200 W/SE
Power Consumption:
1800 W / 1200 W
Voltage Range:
100V / 140V
Lamp Base:
G38
Dimmability:
Yes, 50 - 100% via ARRI Ballast Unit
Cable Options:
VEAM, Schaltbau (GTV-Norm)
Correlated Color Temperature:
6000 K
Beam Angle:
5,5 - 55°
Product Weight:
10,5 kg / 23.2 lbs.
Shipping Weight:
12,9 kg / 28.4 lbs. (incl. pallet)
Product Size (HxWxL):
595 x 387 x 416 mm / 23.4" x 15.2" x 16.4"
Shipping Size (HxWxL):
525 x 515 x 555 mm / 20.7" x 20.3" x 21.9"
Lens Diameter:
250 mm / 9.48"
Accessory Diameter:
330 mm / 12.99" (Scrim)
Barndoor Size:
344 mm / 13.54"
Mounting:
Spigot 28 mm / 1 1/8" (1.1")
Protection Class:
I/IP 23
Certifications:
CE, CB, GS, cNRTL
Price $Call or Email for Quote
Prices in RED are Canadian Dollars.
Prices in BLUE are US Dollars.
Prices subject to change without notice.
Please Note: Not all items listed in the catalogue are regularly stocked.
Please call or email to check current inventory levels.
For volume orders, please call for a quote. Tel: 416-588-6712 Toll Free: 1-888-516-3333
Email: norm.hussey@sourceshop.com
We are not limited to the products on this site. Please call or email us and we'll do our best to locate your product.