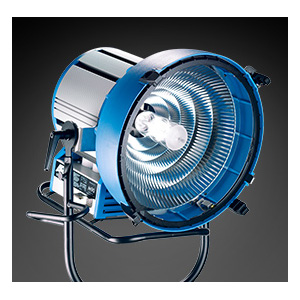 ARRI - M90

To close the gap between the M40 and the ARRIMAX 18/12, the M90 introduces a new power class of 9,000 W.

The unit is open-faced and very bright; it is also focusable from 16° up to 49°, producing a remarkably even light field and a crisp, clear shadow. ARRI technology partner Osram developed a new 9,000 W lamp for the M90, which is stable at 1,000 Hz and almost as small as the 6,000 W lamp that can alternatively be used. This allowed ARRI to design the M90 in a very compact housing, barely larger than the ARRISUN 60.

Accompanying the M90 is a new ballast, the EB 6/9, available in standard and high speed versions. Like other recent ballasts from ARRI, it features CCL (Compensation for Cable Loss) technology and the power-saving ALF (Active Line Filter). The EB 6/9 is DMX compatible and no bigger than ARRI's existing EB 6000 Baby ballast. ETL certified versions of EB 6/9 are available.


Features
Lens-less MAX Technology
Closes the gap between M40 and ARRIMAX 18/12
New 9000 W power class
New 9000 W lamps with the size of 6000 W lamps
Superior light quality
Light output matches a 12 kW PAR (with lens)
As small and lightweight as a 6 kW PAR
Focusable from 16° up to 49°
Can also be used with 6,000 W lamps and ballasts
Uses existing 6 kW cables
Cross-cooling allows safe operation until 90° tilt position*
Tilt locks on both sides hold any heavy accessories
Easy maintenance
Protection class IP23
Possibility to operate at 1,000 Hz
Technical Data
Lamphead Type:
Open Face with Facetted Reflector, 9000 W
Reflector Type:
MAX reflector made of high purity aluminium
Lamp Type:
Metal Halide 9000 W/SE GX38;
Metal Halide 6000 W/SE GX38 (nominal voltage 120V)
Power Consumption:
9000 W / 6000 W
Voltage Range:
160 V / 123 V
Lamp Base:
GX38
Dimmability:
Yes, 50 - 100% via ARRI Ballast Unit
Cable Options:
VEAM
Correlated Color Temperature:
6000 K
Beam Angle:
16 - 49° (with 9000 W lamp)
Product Weight:
39,5 kg / 87.1 lbs.
Shipping Weight:
55,0 kg / 121.3 lbs.
Product Size (HxWxL):
947 x 713 x 716 mm / 37.3" x 28.1" x 28.2"
Shipping Size (HxWxL):
930 x 790 x 910 mm / 36.6" x 31.1" x 35.8"
UV Glass Diameter:
500 mm / 19.69"
Accessory Diameter:
571 mm / 22.48" (Scrim)
Barndoor Size:
584 mm / 22.99"
Mounting:
Spigot 28 mm / 1 1/8" (1.1")
Protection Class:
I/IP 23
Certifications:
CE, CB, GS, cNRTLus
Price $Call or Email for Quote
Prices in RED are Canadian Dollars.
Prices in BLUE are US Dollars.
Prices subject to change without notice.
Please Note: Not all items listed in the catalogue are regularly stocked.
Please call or email to check current inventory levels.
For volume orders, please call for a quote. Tel: 416-588-6712 Toll Free: 1-888-516-3333
Email: norm.hussey@sourceshop.com
We are not limited to the products on this site. Please call or email us and we'll do our best to locate your product.