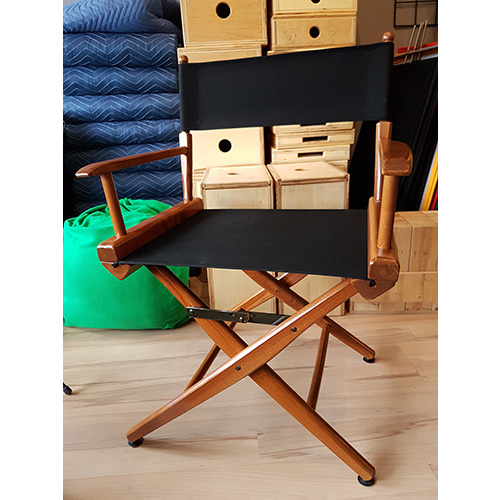 17" World Famous Director's Chair - Telescope

17" Height Director's Chair from Telescope World Famous Director's Chair. High quality directors chair suited for work on set.

Telescope Directors Chairs are soundly constructed using the finest solid North American hardwood. Made in the U.S.A., this director's chair has become the standard in the industry. Arms are shaped and sanded by hand for maximum comfort and smoothness. Director's chairs fold compact, arm assembly folds down flat, packs easily.


17" Dining Height Director's Chair
Available in Five Wood Finishes:
Please Note: Only Walnut and occasionally Black are kept in stock at our store. Other finishes are special order.
Finish Options:
White Paint Finish

Natural Varnish Finish

Black Paint Finish

Walnut Stain Finish

Rustic Grey Finish

Seat and Back Sets Sold Separately: $38.00
Seat and Back Set Options:
Please Note: Only Black Canvas is kept in stock. All others are special order.
Black Canvas #05C

Red Canvas #01C

Red Mesh #01D

Green Canvas #02C

Black Mesh #05D

White Mesh #06D

White Canvas #06C

Orange Canvas #9C

Navy Mesh #13D

Navy Canvas #13C

Teal Canvas #15C

Canary Canvas #16C

Brown Canvas #18C

Natural Mesh #20D

Natural Canvas #20C

Forest Green Mesh #22D

Forest Green Canvas #22C

Blue Canvas #23C

Burgundy Canvas #25C

Purple Canvas #26C

Periwinkle Canvas #31C

Indigo Canvas #35C

Cobalt Mesh #35D

Lime Mesh #38D

Blue Moss Canvas #39C

Tangerine Mesh #41D

Sky Mesh #42D

Yellow Mesh #43D

Curry Canvas #44C

Seaglass Mesh #46D

Surf Mesh #49D

Pink Mesh #50D

Aqua Mesh #51D

Grey Canvas #59C

Price $198.00
Prices in RED are Canadian Dollars.
Prices in BLUE are US Dollars.
Prices subject to change without notice.
Please Note: Not all items listed in the catalogue are regularly stocked.
Please call or email to check current inventory levels.
For volume orders, please call for a quote. Tel: 416-588-6712 Toll Free: 1-888-516-3333
Email: norm.hussey@sourceshop.com
We are not limited to the products on this site. Please call or email us and we'll do our best to locate your product.