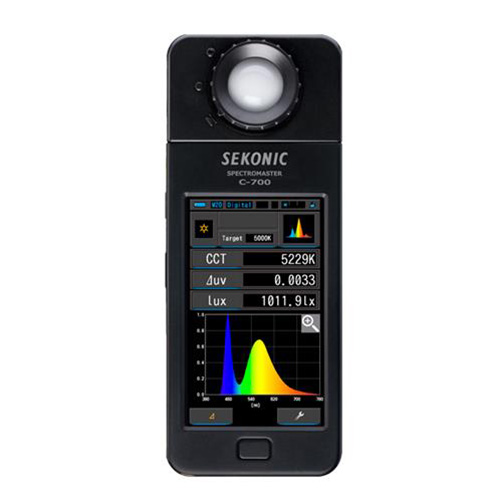 Sekonic C-700 SpectroMaster

The Sekonic SpectroMaster C-700 is designed for motion and still image capturers who must produce quality results with proper subject colour while working with multiple types and brands of light sources.

A full-spectrum colour meter, the C-700 can precisely measure LED, HMI, Fluorescent sources, new-style plasma lamps as well as tungsten lamps, natural light and electronic flash. Its high resolution measuring system, featuring CMOS sensor, capture and displays spikes in light source output to provide unsurpassed colour measurement accuracy.

The C-700's large, colour touch screen displays light-source information as a colour spectrum graph that is expandable for closer inspection, CRI (Ra plus R1 to R15), Kelvin (correalted colour temperature), Illuminance (footcandle or Lux) and light source filtration values in Mired, CC index as well as filter correction values for major light source and lens filter brands. Its "Multi Lights" display enables quick data comparison of four lights with full data on each at the touch of a finder. Its "Multi Spectrum" mode enables displaying spectral graphs of three sources for quick visual comparison.

Different than any spectrometer today, the C-700 meter not only displays more ways to view and compare light-source information, it also provides filtration information to correct and modify light colour for cleaner recording and simpler post process.


Features
Ultimate Tool for Colour Control
Utilizing a CMOS Linear Image sensor the C-700 series spectrometers measures any light source with repeatable and precise accuracy
The C-700 series is the only spectrometer to offer wireless triggering and measuring of electronic flash units. Selective zone control provides specific triggering and measuring of a flash group or unit.
Wide measuring range
Correlated colour temperature (1,600 to 40,000K)
Illuminance (1 to 200,000 lx)
Intuitive colour touch screens offer easy navigation through Spectral distribution, lighting comparisons, CRI colour data and more
Precise measurement of LED, HMI, Fluorescent, Tungsten, and the natural light spectrum
The C-700 series incorporates a CMOS linear sensor, that measures and evaluates the true colour temperature of a light source from 380 to 780 nanometers (nm) in 1 nm output wavelength increments. What makes the C-700 series truly unique and exceptional is its ability to not only measure conventional light sources but also emerging light source technology. Its exclusive ability to measure in 1 nm increments captures spikes in light source output, especially fluorescent and LED sources, providing unmatched colour measurement accuracy. The C-700 series conforms to the requirements for Class A of JIS C 1609-1: 2006 (illuminance meter part 1).


Flash Measurement
| | |
| --- | --- |
| The C-700 series measure electronic flash and displays colour data for accurate white balance, camera and light source filtration and spectral colour precision. Colour temperature reads are displayed in Kelvin and illuminance readings in lux or lux sec. Electronic flash units are triggered and measured by PC cord, cordless mode or with the C-700R built-in PocketWizard wireless triggering system. | |
Wide Measuring Range of Colour Temperature and Illuminance
A wide correlated colour temperature range (1,600 to 40, 000K) and illuminance (1 to 200,000 lx) offer the flexibility and accuracy to measure any light source in any demanding studio or on-location production.


Various Displays
Intuitive colour touch screens offer easy navigation, quick selection, and easy to read measurements and Spectral data.


| | |
| --- | --- |
| The TEXT screen displays user selected measurement values. Real time measurements appear and are updated after every reading, next to their light measurement values. | |
| The Main screen offers quick selection of many of the C700 series functions at a touch of a finger. | |
| The CRI screen displays the standard colour reference values (including R1 thru 15) as a percentage of the light sources ability to reproduce a colour accurately as compared to the Ra standard. | |
| The Spectrum screen displays the spectral energy distribution of a soruce in real time. It can be displayed as a graph and data or full screen. | |
Technical Specifications
Illuminance Meter Class
Conforms to requirements for Class A of JIS C 1609-1: 2006 "Illuminance meters Part 1: General measuring instruments"
Sensor:
CMOS linear image sensor
Spectral Wavelength Range:
380nm to 780nm
Output Wavelength Pitch:
1 nm
Measuring Range:
Ambient light (1 to 200, 000lx = 0.09 to 18,600 fc)
Flash Light (20 to 20,500lx·s)
Accuracy *4, 5 (Standard Illuminant):
Illuminance: ±5%±1 (1 to 3,000 lx), ±7.5MK±1digit
(3,000 to 200,000 lx) of displayed v
CCT ±4MK-1 (Standard Illuminant A, 800 lx)
Repeatability (xy=Standard Illuminant A):
Illuminance: 1%+1 digit (30 to 200,000 lx), 5%+1 digit
(1 to 30 lx) of displayed value
CCT: 2MK-1 (500 to 100,000 lx)
CCT: 4MK-1 (100 to 500 lx)
CCT: 8MK-1 (30 to 100 lx)
CCT: 17MK-1 (5 to 30 lx)
Visible-region Relative Spectral Response Characteristics (f):
Within 9%
Cosine Response (f2):
Within 6%
Temperature Drift (fT):
Illuminance: ±5% of displayed value
CCT: ±12MK-1 (Standard Illuminant A, 1,000lx)
Humidity Drift (fH):
Illuminance: ±3% of displayed value
CCT: ±12MK-1 (Standard Illuminant A, 1,000lx)
Power Source:
AA (1.5V) x 2 pcs, USB bus power
Measurement Time:
Ambient Max: 15 sec.
Ambient Min: 0.5 sec.
Flash: 1 to 1/500s (in 1, 1/2, or 1/3 steps) also 1/75, 1/80, 1/90, 1/100, 1/200, 1/400
Measuring Modes:
Text mode, Spectral graph mode, CRI mode, Lighting filter mode, Camera filter mode, Spectral comparison mode, Multi Lighting Mode, White Balance Mode
Other Functions:
Digital/Film mode, Data memory: 99 data, Preset Function, Auto power off, Auto Dimmer
Display languages:
English, Japanese, Chinese (Simplified)
Interface:
USB 2.0
Operating Temperature:
-10 to 40 deg. C
Storage Temperature:
-10 to 60 deg. C
Dimensions:
Body: W: 73mm (2.9") x H: 183mm (7.2") x D: 27mm (1.1")
Light Receiving Part: D: 40mm (1.6")
Weight:
230g (C-700), 238g (C-700R) without batteries
Downloads
C-700 SpectroMaster Quick Guide
C-700 SpectroMaster English Instruction Manual
Price $1,700.00
Prices in RED are Canadian Dollars.
Prices in BLUE are US Dollars.
Prices subject to change without notice.
Please Note: Not all items listed in the catalogue are regularly stocked.
Please call or email to check current inventory levels.
For volume orders, please call for a quote. Tel: 416-588-6712 Toll Free: 1-888-516-3333
Email: norm.hussey@sourceshop.com
We are not limited to the products on this site. Please call or email us and we'll do our best to locate your product.