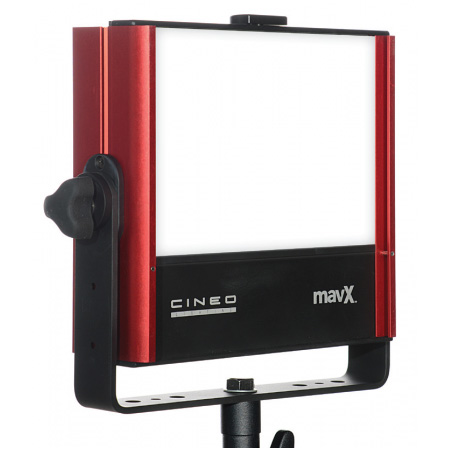 Cineo MavX
The award-winning Cineo MaverickTM mid-power softlight is now available in a color-tunable version: the Cineo MavX.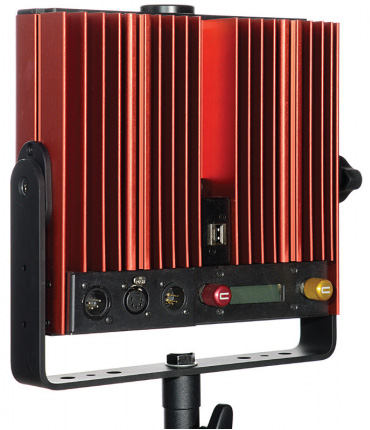 It provides all of the color rendering and output benefits of Remote Phosphor, while offering the ability to dynamically color tune from 2700K to 6500K. MavX includes several updated features designed to make it the perfect lighting tool for small studio and portable applications. Compact, exceptionally durable and powerful, MavX delivers a volume of light equal to a traditional 1K soft source with no color shift or icker at any output level. Like all other Cineo Lighting fixtures, MavX uses passive thermal management for completely silent operation. MavX supports Cineo's Photo-Accurate Dimming, which matches the dimming curve to camera stops. Local control is simple and intuitive, complimented by both wired and wireless DMX control built-in.

For studio applications, MavX delivers up to 8,000 lumens from a lightweight, compact package: perfect for lighting broad areas where grid height is challenging. A wide range of accessories includes barn doors, louvers and softboxes for accurate lighting control. MavX is also ideal as a portable, battery-powered soft source. Cineo's patented SmartPowerTM technology provides consistent light output during battery operation regardless of the charge state of the battery. It also protects to your battery eet by providing adjustment to the fixture's current draw to match the output capability of your batteries.

Extremely accurate color rendering is achieved with Cineo-developed LED phosphor formulations, color- tunable from 2,700K to 6500K, with accurate presets at 3200K, 4300K and 5600K.

The Cineo MavX is the smart soft lighting choice designed to t nearly every installation or production budget.


Features
Optimized output for film, video and still photography
Small and lightweight
Weather resistant
Output similar to traditional 1K softlight
Utilizes CineoColorTM custom LED's for accurate, consistent output
Colour-accurate CCT adjustment from 2700K to 6500K, with presets at 3200K, 4300K and 5600K
150° light spread
Completely flicker-free operation
Silent, passive cooling: no fans
Rotary on-board dimming, with presets calibrated in camera stops
5-pin wired DMX control for both dimming and CCT adjustment
Built-in LumenRadioTM wireless DMX control included 80/20 T-Slot mounting slots for maximum mounting flexibility
Easily removable yoke
Accessories include AC adapter, V-Lock battery adapter, Goldmount battery adapter, barn doors, grids, louvers, and soft boxes
Specifications
| | |
| --- | --- |
| Input: | 10.5-28 VDC input; 75, 120, 135 watts user configurable |
| Maximum output: | up to 8,000 lumens |
| | SmartPowerTM technology delivers constant output as battery voltage decreases |
| Size: | 9.5" x 8.5" x 3.25" (241mm x 216mm x 83mm) |
| Weight: | 5 lbs. (2.3 kg) |
| Mounting: | 4-pin XLR power input |
| Rated: | 50,000 hr. L70 rated |
| Environmental temperature range: | -20° – +40° C |
| Max. Temperature rise: | +45° C |
| 2-year parts and labour warranty | |
| ETL, cETL, CE and RoHS Compliant | |
| Zero UV light emitted | |
| Made in USA | |
Output
| | | |
| --- | --- | --- |
| CCT | Foot-candles @ 10ft. | Lux @ 3m. |
| 2700 | 30 | 324 |
| 3200 | 32 | 346 |
| 4300 | 34 | 367 |
| 5600 | 35 | 378 |
| 6500 | 33 | 356 |
Downloads
MavX Cut Sheet
MaxX User Guide
Price List
| | | |
| --- | --- | --- |
| Part Number | Description | USD List Price |
| 500.0015 | MavX Studio Kit. Includes MavX fi xture, yoke, TVMP Adapter, 150W power supply with mounting hardware, locking IEC to Edison AC power cord. | $2,250.00 |
| 500.0023 | MavX V-Lock Portable Kit. Includes MavX fi xture, yoke, TVMP Adapter, 150W power supply with mounting hardware, locking IEC to Edison AC power cord, V-Lock battery Adapter with mounting hardware. | $2,400.00 |
| 500.0024 | MavX A/B Goldmount Portable Kit. Includes MavX fi xture, yoke, TVMP Adapter, 150W power supply with mounting hardware, locking IEC to Edison AC power cord, Goldmount battery Adapter with mounting hardware. | $2,400.00 |
| 500.0123 | MavX V-Lock Travel Kit. Includes MavX fi xture, yoke, TVMP Adapter, 150W power supply with mounting hardware, locking IEC to Edison AC power cord, V-Lock battery adapter, 90º Louver, portable light stand and heavy-duty case. | $2,950.00 |
| 500.0124 | MavX A/B Goldmount Travel Kit. Includes MavX fi xture, yoke, TVMP Adapter, 150W power supply with mounting hardware, locking IEC to Edison AC power cord, Goldmount battery Adapter, 90º Louver, portable light stand and heavy-duty case. | $2,950.00 |
| 900.0090 | Cineo Maverick Gel Frame | $45.00 |
| 900.0089 | Cineo Maverick 4-leaf Barn Door set | $200.00 |
| 900.0089 | Cineo Maverick 90º Louver | $120.00 |
| 902.0101 | Chimera™ for Maverick - Extra Small (16"x22") | 495.00 |
| 902.0103 | Chimera™ for Maverick - Small (24"x32") | $495.00 |
| 902.0100 | Maverick Snap Bag | $295.00 |
| 100.0085 | Lightweight Rental Case | $300.00 |
Price $Call or Email for Quote
Prices in RED are Canadian Dollars.
Prices in BLUE are US Dollars.
Prices have not been updated and are not applicable.
We ar buiding a new site so please use this as an outdated guide only
Please call or email to check current product prices and stock.
Email: askus@sourceshop.com
Please email us with your equipment and supply needs and we will send you a quote