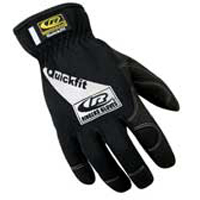 Ringers Gloves - Quick Fit
Quick and Comfortable!
Features:
Open style elastic cuff allows easy access
Tough spandex top material
Hidden seam design
Snug fit design
Premium Synthetic Leather finger and palm material


Sizes: XXS - XXL

Colours: Black / White, All Black, Blue, Red, Hi-Vis

Price $21.00

Prices in RED are Canadian Dollars.
Prices in BLUE are US Dollars.
Prices subject to change without notice.
For volume orders, please call for a quote. Tel: 416-588-6712 Toll Free: 1-888-516-3333
Email: norm.hussey@sourceshop.com
We are not limited to the products on this site. Please call or email us and we'll do our best to locate your product.