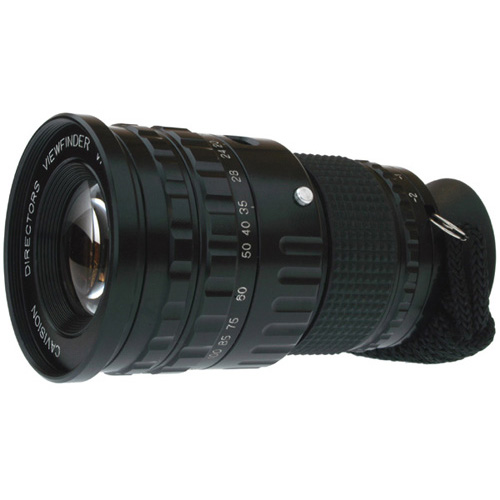 Director's View Finder - VFRW-11X
Newly designed to include all the latest digital formats.
Key Features
Totally unique new design featuring sensor width markings
Features all established formats (Anamorphic, S35, 35, 16, S16, 1", 1/2", 1/3") as well as full frame DSLR & APS-C sensor sizes and other digital formats (covering most digital film cameras)
Intermediate dial setting option allows the user to customize the format setting to virtually any sensor type
Includes all common aspect ratios
Utilizes a window to display only the format currently in use, making it quicker and easier to check the format setting
Can also be used as a quick format converter by changing the format setting while keeping the focal ring in place
52mm front filter thread allows for the attachment of wide angle converter or circular filter
Features eyepiece diopter adjustment, ideal for varying eye-sights
Specifications
Materials: Aluminum, 4 element coated optics
Action: friction adjustment on rotating ring for focal length adjustment; click stops for aspect ratio and format adjustment rings
Formats: Anamorphic, W36 (full frame DSLR), W26/24 (Digital S35), 35mm Film (W22 - APS-C), W19, S16 & 16mm film; 2/3", 1/2", 1/3" SD/HD Video
Aspect ratios: 4:3 (1.33), 1.66, 16:9 (1.78), 1.85, 2.2, 2.4, 2.55
Rear eyepiece: diopter adjustment
Weight: 0.6 lbs / 274g
Dimensions: 102mm (4") long, 55mm front outside diameter
Front filter thread: 52mm
Finish: Black
Neck strap: Nylon fabric
Included: Front lens cap, rubber eye cup, VCRW-11X hard case





Sensor Sizes of Digital Formats

Format
Sensor Width
Camera Examples
Micro 4/3"
18mm
AF100, GH3
Phantom Special Format
19mm
Flex HD, M3206
Canon APS-C
(equivalent to 35mm Film)
22mm
7D, T5i, 70D, F55 / F5
APS-C
(most other DSLR brands)
24mm
D7000, D300s, VG30, A77
Digital S35
24mm
FS700, F3, F65, C500, Alexa
Digital S35
26mm
RED Epic / Scarlet, Flex 4K
Full Frame 35mm DSLR
36mm
5DMIII, D4, D800, 1D-C, 6D, D3x





VFRW-11X Focal Length Ranges

| | |
| --- | --- |
| Anamorphic | 35-400 |
| W36 | 30-330 |
| W26 | 21-240 |
| W24 | 20-220 |
| 35mm Film (W22) | 18-200 |
| W19 | 14-140 |
| S16 | 10-114 |
| 16 | 8.5-94 |
| 2/3" | 7-77 |
| 1/2" | 5-58 |
| 1/3" | 3.9-43 |
Price $495.00
Prices in RED are Canadian Dollars.
Prices in BLUE are US Dollars.
Prices subject to change without notice.
Please Note: Not all items listed in the catalogue are regularly stocked.
Please call or email to check current inventory levels.
For volume orders, please call for a quote. Tel: 416-588-6712 Toll Free: 1-888-516-3333
Email: norm.hussey@sourceshop.com
We are not limited to the products on this site. Please call or email us and we'll do our best to locate your product.