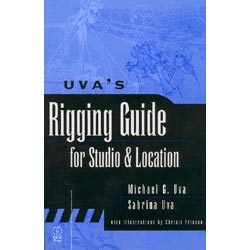 UVA'S Rigging Guide for Studio & Location

Those interested in detailed information on the work of the grip department will welcome this new rigging manual, which clearly details all the ways to mount cameras and lights both on a set and on location.

The book covers the latest truss systems, rigging equipment, and portable stages, as well as lifts, boom arms, and camera mounts for every type of moving vehicle. The book is not limited to equipment specifications, however.
This book will help grips and key grips move on to bigger feature projects and commercials that require this equipment. It will also be useful for directors of photography and producers in pre-planning the required equipment for specific shots.

Price $65.00

Prices in RED are Canadian Dollars.
Prices in BLUE are US Dollars.
Prices subject to change without notice.
Please Note: Not all items listed in the catalogue are regularly stocked.
Please call or email to check current inventory levels.
For volume orders, please call for a quote. Tel: 416-588-6712 Toll Free: 1-888-516-3333
Email: norm.hussey@sourceshop.com
We are not limited to the products on this site. Please call or email us and we'll do our best to locate your product.