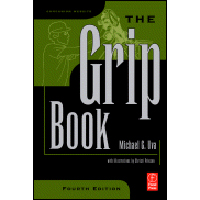 The Grip Book 5th Edition

Written by Michael G. Uva. Discover the A-Zs of professional film gripping with The Grip Book, Fifth Edition which has been updated and revised to be even more valuable to professional grips - the "jack-of-all-trades and master of all" on a film or video set.

Learn how to install, set up, maintain, and ensure the safety of all equipment needed on a set, such as lighting stands, cameras, and any specialty equipment needed for a shoot. This new edition contains information about the latest equipment and has been updated to reflect changes in the industry including CGI screen setup and 'cleaning up the perms.' The Grip Book also teaches readers how to become a professional grip and have a successful career, and is an indispensable learning tool and reference for grips of all experience levels.


Features:
Companion website, TheGripBook.com, includes videos that explain what to use, when to use it, and where to get it
Offers detailed information on the use and operation of the latest rigging equipment
Includes hard-to-find information for difficult camera mounts such as those on aircrafts, boats, cars, and trains
Time-tested tips and tricks for smooth and safe setup and operation
Tips on set etiquette and how to succeed as a technical crew member


Written by Michael G. Uva, a well-respected key grip in Hollywood, with over 25 years of experience in film, TV, movies, and commercials. Including the recent hit shows "Curb your enthusiasm", "Nip/Tuck", and "Everybody Hates Chris". He is the author of all three editions of the popular The Grip Book published by Focal Press.

Contents:
Introduction

What This Book Is About
Getting Started
A Little Grip History
The Grip Department
Typical Day for a Grip
Call Sheet
Grip Job Description (From a Medical Perspective)
Warning/Disclaimer

The Big Break (Strictly for the Brand-New Grip!)

Set Etiquette
Being a Professional Crew Member
Being Professional When You're Boss
Location Etiquette: Getting Along with Locals
Some Thoughts on Equipment
Last Thoughts and Parting Advice
Ron Dexter's Suggested Book and Source List

Essential Equipment
Expendables
Knots
Basic Tool Descriptions
Filters and Gels
Techniques for Mounting the Camera
Cables, Slings, and Hardware
Lifts
Cranes, Jibs, Arms, Dollies, and Heads
Cranes Mounted on Wheeled Bases
Lenny Arms
Cablecam
Dollies
Precision Cadillac Track and Chapman Lencin
Fluid and Remote Heads
General Tricks of the Trade
The Rental House
Field Operation
Glossary
Index
Price $79.95
Prices in RED are Canadian Dollars.
Prices in BLUE are US Dollars.
Prices subject to change without notice.
Please Note: Not all items listed in the catalogue are regularly stocked.
Please call or email to check current inventory levels.
For volume orders, please call for a quote. Tel: 416-588-6712 Toll Free: 1-888-516-3333
Email: norm.hussey@sourceshop.com
We are not limited to the products on this site. Please call or email us and we'll do our best to locate your product.