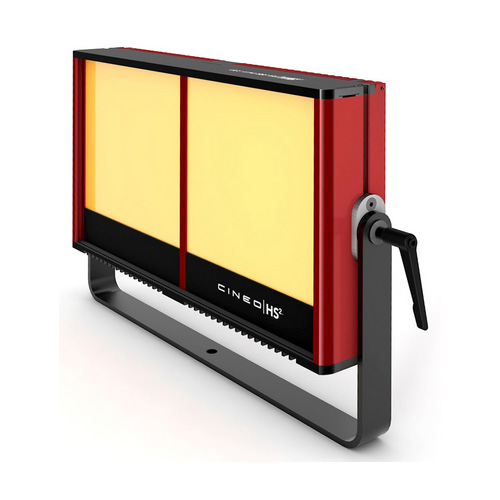 Cineo HS2
Cineo Lighting continues to pioneer Remote Phosphor technology for image capture with HS2, the second generation of the revolutionary HS fixture currently in use on motion picture sets and in broadcast studios worldwide.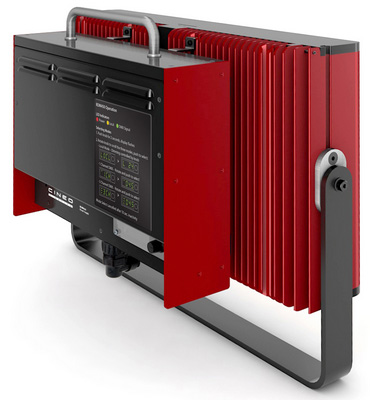 All HS2 components are 100% cross-compatible with all legacy HS and LS fixtures, accessories, phosphor panels, and cabling.

The HS2 lamphead features a single piece design for increased ruggedness, as well as an improved safety switch for better reliability. 80/20 mounting slots on both the sides and back of the fixture make attaching yoke and accessories easy. Two distinct mixing chambers allow custom CCT mixing via DMX. New hinged top access panel allows for easy, one-handed phosphor panel and accessory changes.

The RDM450 is smaller and lighter weight than the legacy DTZ450 power supply and features completely re-designed electronics for improved reliability. Other new features include digital display and control, remote programming via RDM, as well as fine dimming, smooth dimming and strobe capability. The RDM450 can be attached directly to the HS2 head for one-piece operation or operated remotely up to 300 feet from the fixture.

HS2 represents Cineo Lighting's commitment to constant innovation of illumination technology. This second generation tool builds upon Cineo's years of experience in Remote Phosphor Technology while continuing to provide the unexcelled brightness, extremely accurate color quality, power efficiency, and flexibility that hundreds of cinematographers, gaffers, and lighting designers rely on daily.


HS2 Lamphead Features
Utilizes Remote Phosphor Technology (RPT) for accurate, consistent output
Full compatible with all legacy HS and LS power supplies, accessories, phosphor panels, and cabling
Local and DMX dimming with no color shift 0-100%
80/20 mounting slots on both sides and back
Two mixing chambers provides custom CCT mixing
Hinged top access panel for easy operation
RDM450 Power Supply Features
Completely re-designed electronics improves reliability
Smaller, lighter weight than previous power supplies
Improved digital display and control
Remote DMX address programming via RDM
Operates up to 300' from fixture
Optionally attaches directly to the HS2 head
Smooth Dimming (0-100%) and strobe capability
Fine dimming mode available on DMX
Flicker-free, completely silent operation
HS2 Specs
Highly Accurate Colour Rendering
CRI 98 2700K, CRI 98 @ 3200K
CRI 97 @ 4300K, CRI 94 @ 5600K
CRI 93 @ 6500K
Super Bright, Hyper Soft:
Over 700 lx @ 3m with a 160° beam spread
Colour Temperature:
2700K, 3200K, 4300K, 5600K, 6500K
Output:
2700K
93 fc @ 10 ft. (995 lux @ 3m)
3200K
100 fc @ 10 ft. (1070 lux @ 3m)
4300K
110 fc @ 10 ft. (1177 lux @ 3m)
5600K
112 fc @ 10 ft. (1198 lux @ 3m)
6500K
116 fc @ 10 ft. (1241 lux @ 3m)
Input Voltage:
100-240VAC 50/60 Hz
Power Consumption:
500 watts max
Lamp head dimensions:
12? H x 21? W x 3.8? D (290 mm x 532 mm x 96.5 mm)
Lamp head weight:
22 lbs (9.9 kg)
RDM450 PSU dimensions:
3" H x 13" W x 9.5" D
(76 mm x 330 mm x 241 mm)
RDM450 Weight:
11 lbs (4.9 kg)
Max temperature rise:
45° C
Environmental temperature range:
-20° to +50°C
Lamp Life:
35,000 hours, L70 rated
Mounting:
Yoke included, double yoke, pole op
Certifications:
ETL listed for dry location
FCC compliant
CE compliant
ROHS compliant
Warranty:
Two years parts and labour
Accessories:
60° Egg crate
90° Louver
Gel frame
Barn doors
Snap Grid
Softbox
Zero UV Light Emitted
Made in USA
HS2 Output
FC @ 10'
(open face)
FC @ 10'
(with 120° intensifier)
LUX @ 3m
(open face)
LUX @ 3m
(with 120° intensifier)
CRI
CRIe
TLCI
2700K
93
116
986
1230
97
96
97
99
3200K
100
125
1060
1325
97
96
96
99
4300K
110
138
1166
1463
97
96
94
98
5600K
112
140
1187
1484
96
95
93
97
6500K
116
145
1230
1537
95
94
92
97
Chroma
Green
178
223
1887
2364
Chroma
Blue
30
38
318
403
Colour Quality

Black Body Curve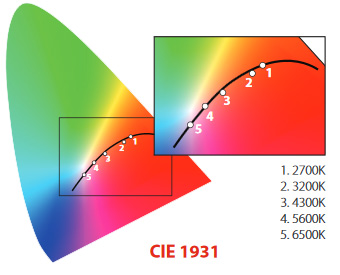 Download HS2 Cut Sheet
Download HS2 Catalogue
Price List
Kits
Kits
Part Number
Describtion
USD List Price
901.0006
HS2 3200 2-piece kit
c/w: HS2 Lamphead, RP Panel set - 3200K, 10' Lamphead Cable,
Cineo RDM450 PSU, locking AC power cord, TVMP adapter.
$3,795.00
901.0007
HS2 5600 2-piece kit
c/w: HS2 Lamphead, RP Panel set - 5600K, 10' Lamphead Cable,
Cineo RDM450 PSU, locking AC power cord, TVMP adapter.
$3,795.00
901.0018
HS2 2700 2-piece kit
c/w: HS2 Lamphead, RP Panel set - 2700K, 10' Lamphead Cable,
Cineo RDM450 PSU, locking AC power cord, TVMP adapter.
$3,795.00
901.0019
HS2 4300 2-piece kit
c/w: HS2 Lamphead, RP Panel set - 4300K, 10' Lamphead Cable,
Cineo RDM450 PSU, locking AC power cord, TVMP adapter.
$3,795.00
901.0106
HS2 3200 Integrated Kit
c/w: HS2 Lamphead, RP Panel set - 3200K, RDM450 Mounting Kit,
Cineo RDM450 PSU, locking AC power cord, TVMP adapter.
$3,795.00
901.0107
HS2 5600 Integrated Kit
c/w: HS2 Lamphead, RP Panel set - 5600K, RDM450 Mounting Kit,
Cineo RDM450 PSU, locking AC power cord, TVMP adapter.
$3,795.00
901.0118
HS2 2700 Integrated Kit
c/w: HS2 Lamphead, RP Panel set - 2700K, RDM450 Mounting Kit,
Cineo RDM450 PSU, locking AC power cord, TVMP adapter.
$3,795.00
901.0119
HS2 4300 Integrated Kit
c/w: HS2 Lamphead, RP Panel set - 4300K, RDM450 Mounting Kit,
Cineo RDM450 PSU, locking AC power cord, TVMP adapter.
$3,795.00
901.0021
Cineo HS2 Bi-color 2-piece Kit
c/w: HS2 lamphead, RDM450 power supply, 10' lamphead cable,
3200K and 5600K RP panel sets, AC power cable, TVMP adapter
$4,200.00
901.0022
Cineo HS2 Bi-color integrated Kit
c/w: HS2 lamphead, RDM450 power supply, RDM450 Mounting Kit,
3200K and 5600K panel sets, AC power cable, TVMP adapter
$4,200.00
Lampheads
900.0015
HS2 Lamphead and Yoke (no cable, no panels)
$1,600.00
900.0059
HS2 Lamphead and Pole-op Yoke (no cable, no panels)
$2,200.00
900.0161
HS2 Lamphead only. No yoke, cable, or panels
$1,500.00
Power Supplies
900.0040
Cineo RDM450 Power Supply for all HS and LS systems
$1,750.00
900.0050
AC Power Cord, Edison to Locking IEC, 6ft.
$24.00
900.0051
AC Power Cord, UK 13A to Locking IEC, 2m
$36.00
900.0052
AC Power Cord, Schuko to Locking IEC, 2m
$30.00
Lamphead Cables
900.0027
RDM450 Mounting Cable for HS2
$95.00
900.0023
HS / LS Lamp Head Cable, 10'
$150.00
900.0024
HS / LS Lamp Head Cable, 30'
$190.00
900.0025
HS / LS Lamp Head cable, 50'
$220.00
900.0049
HS / LS Lamp Head cable, 100'
$400.00
Mounting Hardware
900.0058
TVMP Adapter
$24.00
900.0060
Latching hanging bracket for Cineo power supplies
$50.00
900.0120
RDM450 Mounting Kit, Includes mounting rails, connector cable, and instructions.
$250.00
Remote Phosphor Panels
902.1127
HS Phosphor panel (set of 2) - 2700K
$495.00
902.1132
HS Phosphor panel (set of 2) - 3200K
$395.00
902.1143
HS Phosphor panel (set of 2) - 4300K
$495.00
902.1156
HS Phosphor panel (set of 2) - 5600K
$395.00
902.1165
HS Phosphor panel (set of 2) - 6500K
$495.00
902.1150
HS Phosphor panel (set of 2) - Chroma Green
$695.00
902.1140
HS Phosphor panel (set of 2) - Chroma Blue
$200.00
902.0013
Phosphor panel carry pouch
$95.00
Light Control
900.0019
HS louver 90°, Black anodized aluminum
$250.00
902.0011
HS Snapgrid 90°, Black soft fabric
$250.00
900.0017
HS Eggcrate 60°, Black soft fabric
$250.00
900.0020
HS Gel frame, Black anodized aluminum
$80.00
900.0021
HS 4-leaf barn door, Black anodized aluminum
$350.00
902.0016
HS Chimera kit, Large (36" x 48")
$695.00
902.0015
HS Chimera kit, Small (24" x 32")
$435.00
902.2322
Snapgrid for Small Chimera Box
$350.00
902.2323
Snapgrid for Medium Chimera Box
$525.00
900.0099
SPACE Skirt and Target
$395.00
902.0102
Snapbag for Cineo HS Light, 1m x 1m w/ speedring, bag
$825.00
902.2324
Snapgrid Insert for HS Snapbag
$756.00
Conversion Kits
900.0065
SPACE conversion kit, bracket and hardware
$495.00
900.0072
XS conversion kit, bracket and hardware
$595.00
900.0066
HS Pole-op yoke, yoke no hardware (requires 900.0069)
$495.00
900.0069
HS/LS Pole-op hardware mounting kit, no yoke
$50.00
Cases
902.1101
Calzone Anvil case for Cineo HS
$895.00
902.1102
Calzone Anvil case for Cineo HS2
Price $See Above
Prices in RED are Canadian Dollars.
Prices in BLUE are US Dollars.
Prices have not been updated and are not applicable.
We ar buiding a new site so please use this as an outdated guide only
Please call or email to check current product prices and stock.
Email: askus@sourceshop.com
Please email us with your equipment and supply needs and we will send you a quote