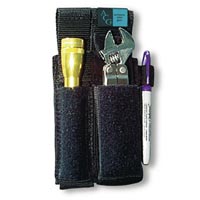 Multi-Tool Pouch - ACG

Compact Pouch Designed To Hold Multiple Tools.

Popular compact pouch made of super durable nylon webbing designed to carry a multi-tool, mini flashlight, crescent wrench and Sharpies.

Features: Closing flap to keep tools in the pouch, capacity to hold a 6", 8" or 10" crescent wrench. Can accomodate The Scorpion, Surefire or Mag-Lite.

Dimensions: 6" L x 4" W x 1.5" D.

Customers from the United States can purchase ACG products from our American distributor:
Barbizon Electric

Price $29.95

Prices in RED are Canadian Dollars.
Prices in BLUE are US Dollars.
Prices subject to change without notice.
Please Note: Not all items listed in the catalogue are regularly stocked.
Please call or email to check current inventory levels.
For volume orders, please call for a quote. Tel: 416-588-6712 Toll Free: 1-888-516-3333
Email: norm.hussey@sourceshop.com
We are not limited to the products on this site. Please call or email us and we'll do our best to locate your product.